Picturing Places and Spaces
January 20 – April 1, 2022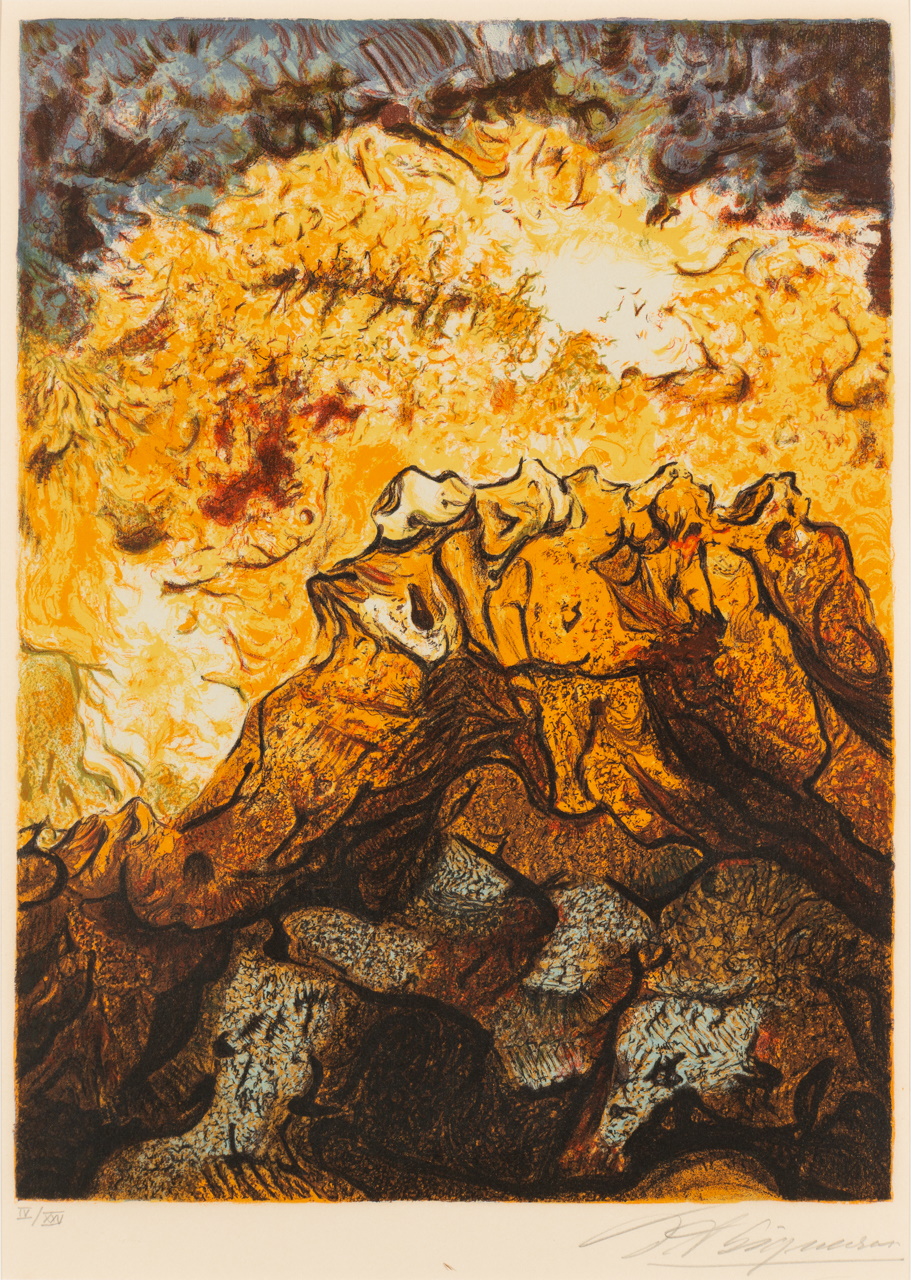 David Alfaro Siqueiros
Mexican, 1896-1974
"Phosphorescent Volcano," IV from Mountain Suite
1969
Lithograph
Gift of Alex Neshkes, 1979.004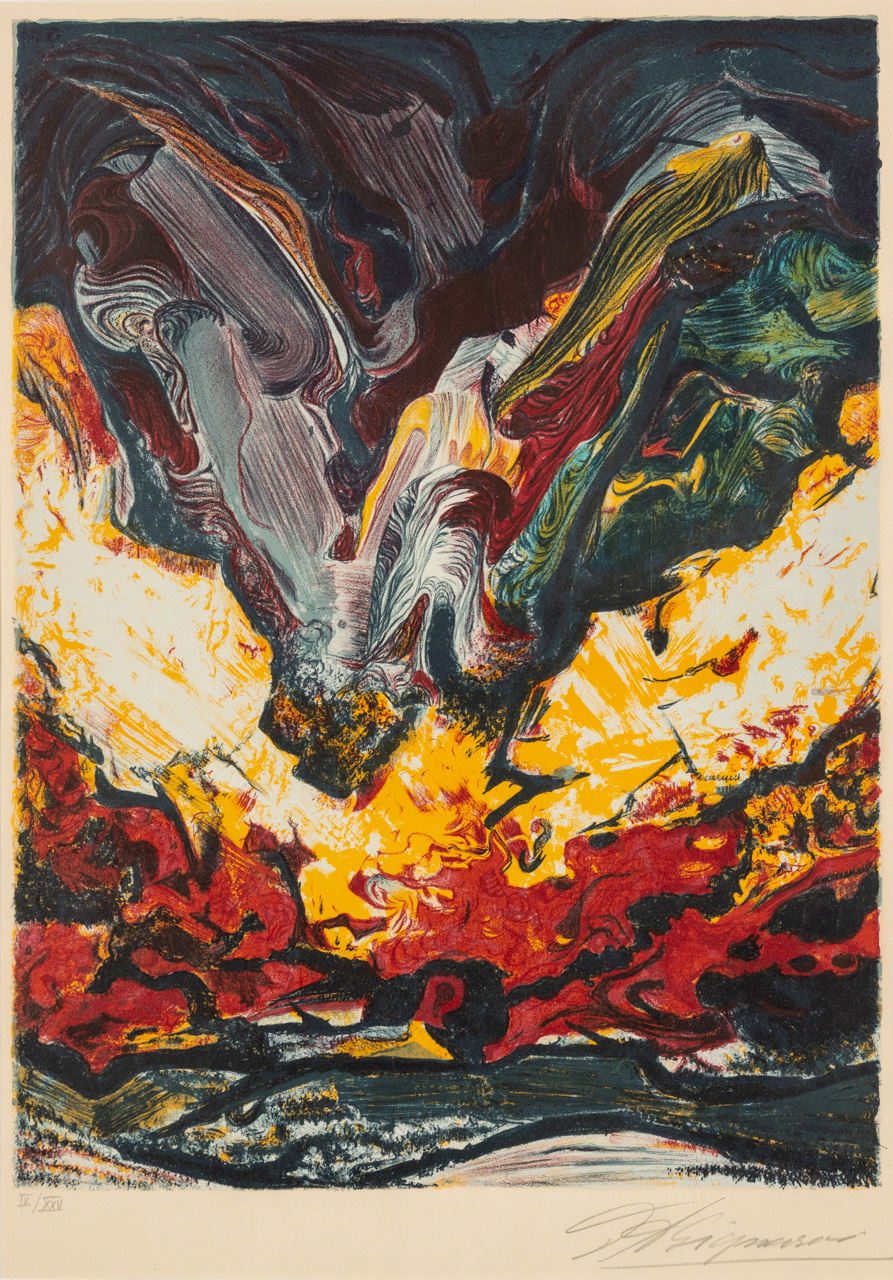 David Alfaro Siqueiros
Mexican, 1896-1974
"Explosive Landscape," II from Mountain Suite
1969
Lithograph
Gift of Alex Neshkes, 1979.002
These lithographs are part of a series titled Mountain Suite by David Alfaro Siqueiros. Landscapes are depicted in four of the prints, but six focus on figures. All relate to his home country of Mexico, his political beliefs that leaned toward Marxism, and a new vision for religion. The figural images are striking: Jesus as a boy; crucified Christ with amputated limbs; a jailed woman; a fleeing woman; a Mayan mask; and a self-portrait. Like the figural images, the four landscapes express intense emotion.
The landscapes depict the sheer power of nature in flux. "Phosphorescent Volcano" seems to be a view of a rocky vent emitting magma and smoke. The other, "Explosive Landscape," appears to be the aftermath, with outflows of lava erasing everything in its path. Extreme heat is suggested by his use of bright white, yellow and red. Movement is implied by the striations within the forms bubbling upward or flowing downward, and barbed lines add to the feeling of tension. Nature embodies the turmoil Siqueiros saw around him.
David Alfaro Siqueiros is one of the three great Mexican muralists, along with Diego Rivera and José Clemente Orozco. He was born in Chihuahua, and as a youth attended several art schools where he studied en plein air painting and also learned about socialism. In 1914, he joined the Mexican Revolutionary army serving as a liaison officer on the front where he saw battlefields and comrades scarred by explosions. In 1921, he went to Paris where he was exposed to cubism and Baroque perspective, and he later traveled to Italy with Diego Rivera. In 1936, he established the Siqueiros Experimental Workshop in New York City where unconventional paints and application techniques such as air brushing were utilized. The workshop was a collective of fifteen artists, including Jackson Pollock. Siqueiros embraced photography as a tool for creating his art, and as an avid traveler, he used it to document his journeys, particularly aerial views. Landscape imagery is important in his murals and in his easel paintings. His art was as revolutionary as his politics that often landed him in jail. Considered a modernist and social realist painter, David Alfaro Siqueiros received many honors including the National Art Prize from the Mexican Government in 1966, the Lenin Peace Prize in 1967, and the first directorship of the Mexican Academy of Arts in 1968.
Bibliography
Casanova, Manuel González. Siqueiros–Pintura Mexicana (Exposición retrospectiva), 1969. Colección Filmoteca de la UNAM. https://www.filmoteca.unam.mx/cine-en-linea/pintura-mexicana/siqueiros/
Chilvers, I., and J. Glaves-Smith. "David Alfaro Siqueiros." A Dictionary of Modern and Contemporary Art. New York: Oxford University Press. Accessed Nov. 27, 2021. https://0-www-oxfordreference-9780191792229-e-2513
Hill, Carolyn. Mexican Masters: Rivera, Orozco and Siqueiros: Selections from the Museo de Arte Carrillos. Oklahoma City: Oklahoma City Museum of Art, 2005.
"Siqueiros, David Alfaro." Benezit Dictionary of Artists. New York: Oxford University Press, October 31, 2011. https://doi.org/10.1093/benz/9780199773787.article.B00170293
Siqueiros, David Alfaro. "Mountain Suite." Swan Galleries, New York, Website. (Portfolio with text and ten lithographs, 1969). Accessed Nov. 29, 2021. https://catalogue.swanngalleries.com/Lots/auction-lot/DAVID-A-SIQUEIROS-Mountain-Suite?saleno=2491&lotNo=321&refNo=749165
Siqueiros: Landscape Painter. Long Beach and Mexico City: Museum of Latin American Art and Museo de Arte Carrillo Gil, 2010.