One House, Two Voices: Recent Glass Works by Christina Bothwell and Robert Bender
May 5 - July 14
Exhibition opening reception: Friday, May 5, 5:00 - 7:00 p.m.
Featured Guest Speakers: Christina Bothwell and Robert Bender will speak at 6:00 p.m.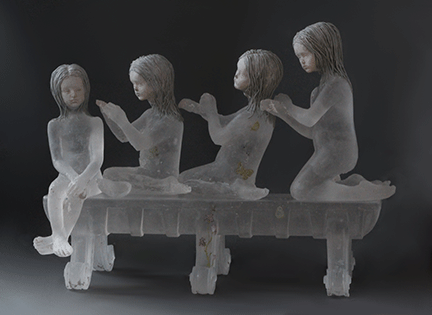 One House, Two Voices highlights a remarkable selection of recent mixed media works by married couple Christina Bothwell and Robert Bender. The exhibition includes both individual and collaborative works. These imaginative pieces are primarily cast glass with stunning added ceramic and painted details.
Christina and Robert met forty years ago as young teens at art camp in New Jersey and together turned their shared passion for art into accomplished careers. Their early love for a variety of art forms including painting, ceramics, illustrating and glass work has become a lifelong commitment.
In describing their relationship, Robert has stated:
Sometimes Christina asks me if "we're having an Appel Farm moment." We met as young teens at an arts camp in New Jersey called Appel Farm. I was working in ceramics and she was upstairs in the art barn painting. After feeling uncomfortable with some of her teacher's strict ideas about what students were to do, Christina was drawn downstairs to my area. I worked on the potter's wheel while she hand built a doll house. This place represented the best of what art means to us. It was a relaxed, yet stimulating environment where we felt safe to play and enjoy our creativity. It's a significant accomplishment for those young artists who can carry an early love of art into a lifelong commitment. The demands and responsibilities of being parents certainly frames our existence with the reality of taking care of other's needs. As artists, our paths have gone in distinct directions. But they have crossed from time to time. While Christina was becoming known in the glass world, I was writing and illustrating children's books. After almost twenty years of publishing books, I made the decision to cast glass as well. While there have been some issues with stepping into her territory (and studio), the lasting result is a deepening of our working relationship. Our artistic visions are quite distinct from one another. But we have recognized opportunities to see how we can complement and magnify each other's vision. A few of the works in this exhibition represent these collaborations. "Imaginary Friends" is an effective illustration of the final product being greater than the sum of its parts. The figures are whimsical, lively, and expressive. The bench is formal, elegant, and pristine. The combined result is charged with the energy that only the best collaborations can bring. Forty years after meeting at camp, we are still hanging out and playing at what we love the most. Our friendship and love for one another form the basis for our lives. It is natural that some art would evolve as an expression of this. We are lucky….. still having Appel Farm moments. ---Robert Bender
---