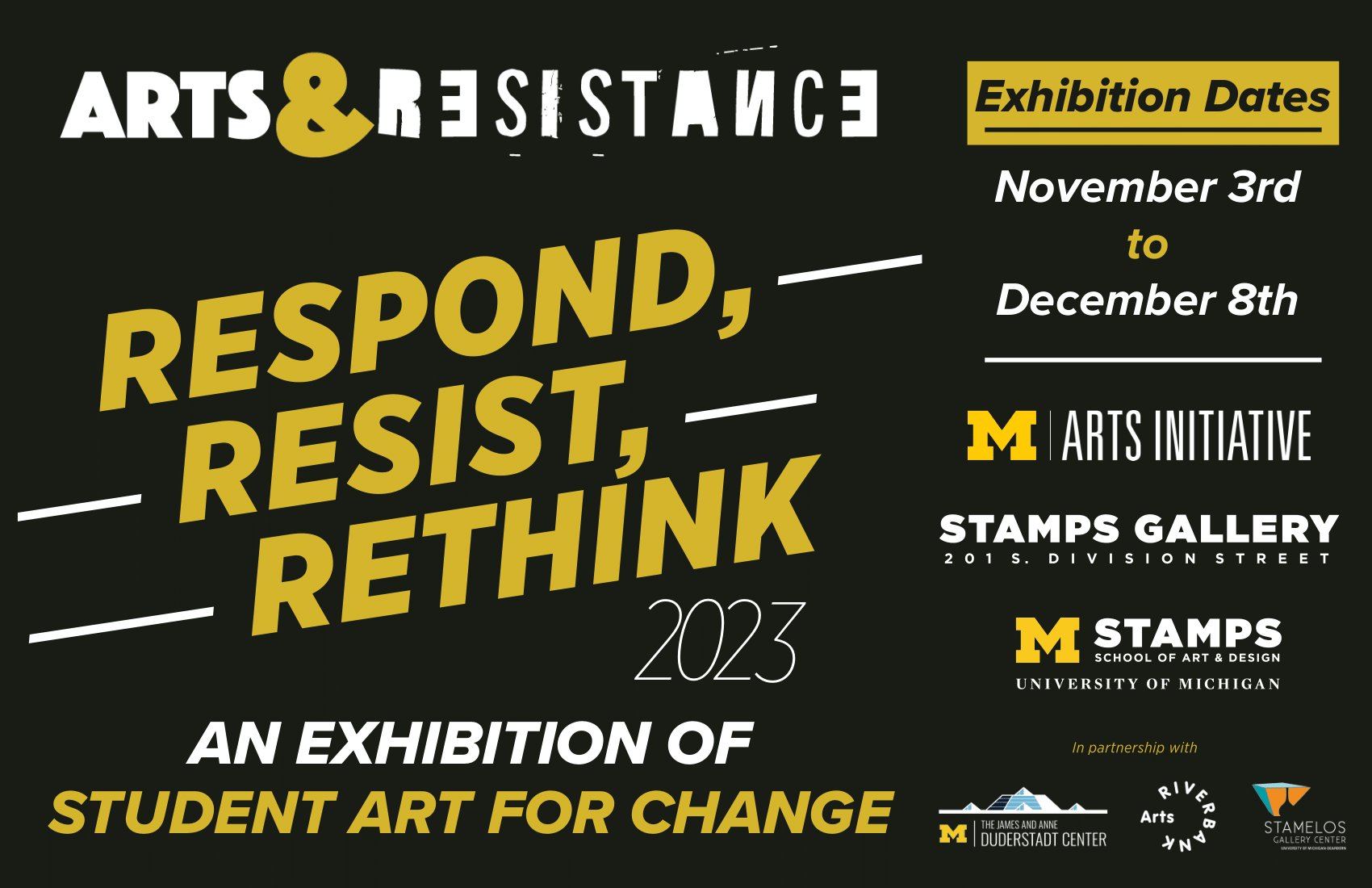 Respond​/Resist/​Rethink: An Exhibition of Student Art for Change
November 3 - December 8
Respond/Resist/Rethink invites students to leverage their creativity to (re)imagine what they can do to create a more just and equitable community in the spaces that they inhabit. The exhibition includes a variety of art forms and will be displayed in four partner galleries across all three U-M campuses, including Stamps Gallery (Central Campus, Ann Arbor), Duderstadt Center Gallery (North Campus, Ann Arbor), Riverbank Arts (Flint), and Stamelos Gallery Center (Dearborn).
Opening Reception
Thursday, November 16, 2023, 5:30 p.m. - 7:30 p.m.
Student artists will speak at 6:00 p.m.
Reception is free to the public. Complimentary beverages and hors d'oeuvres provided.
EXHIBITION INFORMATION
Doug Cannell: Learning Curves
October 19 - December 10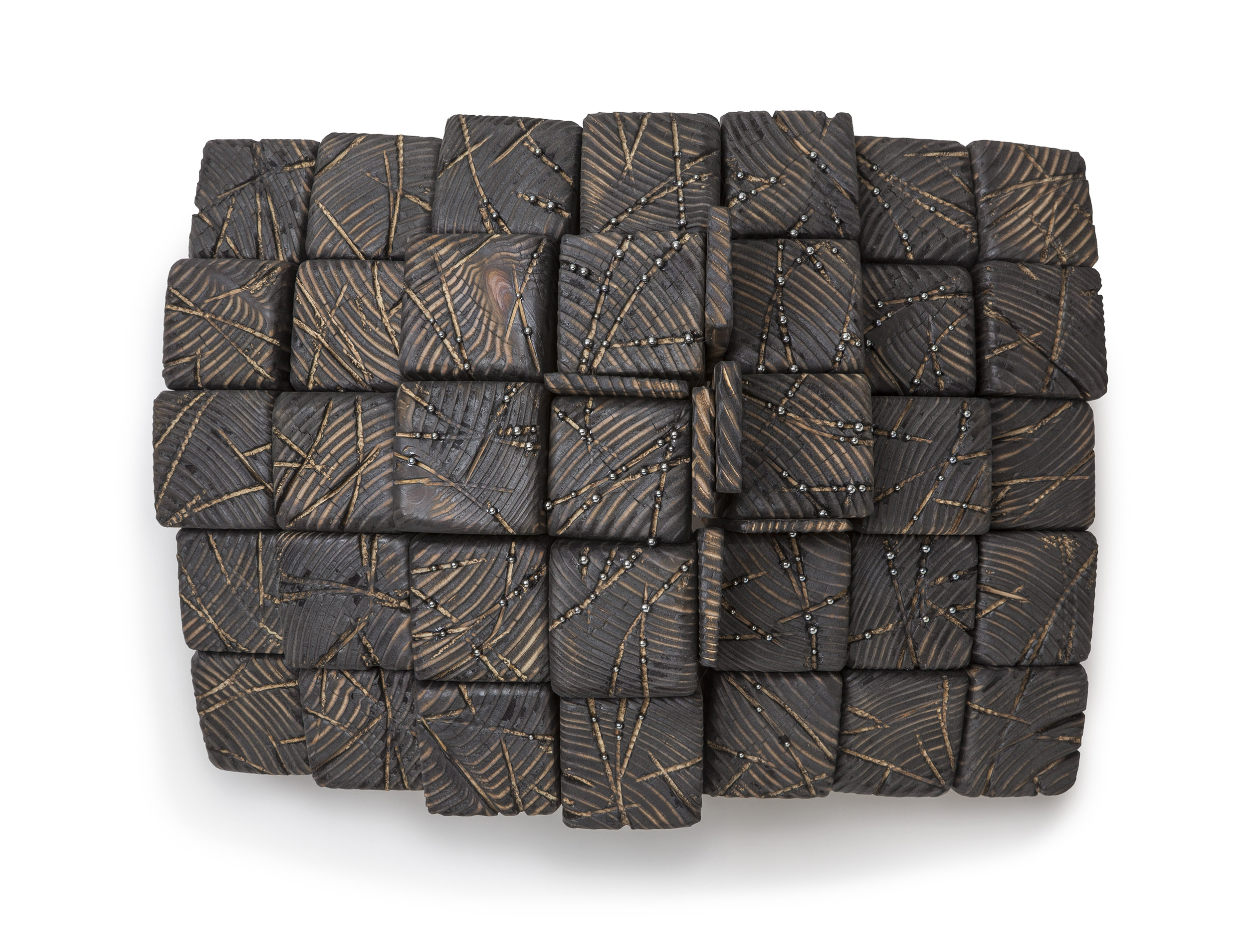 Learning Curves is an expansive collection of works by Detroit-based sculptor Doug Cannell. Though his work has been shown widely, this is the most comprehensive exhibition of his sculpture to date, with a diverse collection of pieces created over the past ten years.

The exhibition is anchored by two new series of work rooted in calligraphy, brushwork, and the written word. Many of these unique and adeptly constructed works are inspired by Japanese sumi-e calligraphy, in particular the Zen practice of the enso, an ink circle drawn briefly and in one stroke. Others are deconstructed and reimagined letterforms from the Thai, Armenian, Korean and other alphabets. But all are meticulously fabricated from bent, laminated plywood, in a process that interprets loose, inky brushstrokes and typography into three dimensions.
Opening Reception
Thursday, October 19, 2023, 5:00 p.m. - 7:00 p.m.
Artist Doug Cannell will speak at 6:00 p.m.
Reception is free to the public. Complimentary wine and hors d'oeuvres provided.
EXHIBITION INFORMATION
Kristin Anahit Cass

Kristin Anahit Cass is a Chicago-based artist working in photography, video, writing, sculpture and other media. Her art explores the intensely personal spaces where our lives intersect, considering underlying questions of social justice and human rights. As an artist of mixed ethnicity and a descendent of genocide survivors, Cass's work reflects her passion for amplifying diverse voices telling stories that inspire change. In addition to her arts education, her career as a lawyer gives her a unique perspective on the injustices that so many people and communities face every day. Cass is a graduate of the University of Chicago.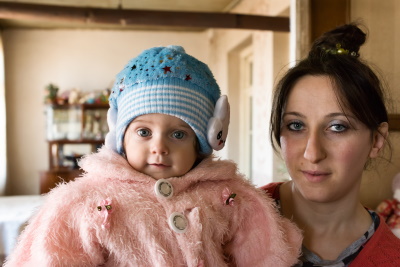 The New Freedom Fighters: Women And Nonviolent Resistance project explores the often unrecognized role that women play in the survival and evolution of cultures and communities. The women profiled in this project live every day under military threat and use different types of nonviolent resistance to defend their human rights and mitigate the consequences of war in their communities. The lives of the women you meet here have been irrevocably shaped by war. Despite feeling the effects of the violence on their homes, families, career prospects, and communities, these women understand the need for creative nonviolence to break the cycle of war and intolerance.
VIEW THE EXHIBITION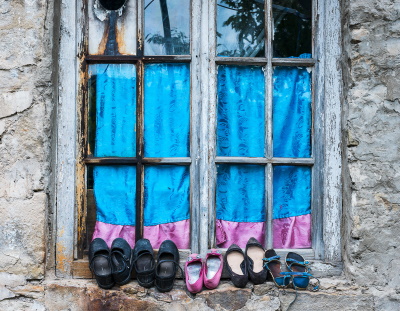 Borderlands Under Fire exposes the world of a frozen conflict and documents the effects of state-sponsored violence on daily life in the frontier villages of Armenia, a tiny country in the South Caucasus. Caught at the geopolitical crossroads of East and West, Armenian villagers find themselves used as pawns in a political power game, and ignored by international organizations like the OSCE and the UN. But they refuse to give up their agency, and they continue working to make change from within their communities. Even as the people of these border villages suffer violence and privation daily as a result of war, they hold fast to their homeland, preserving their language and culture as part of the world's heritage. The project explores the villagers' use of creative nonviolent resistance to defend their human rights and develop their communities.
VIEW THE EXHIBITION
Art In a Time of Pandemic
Stamelos Gallery Center Photo Competition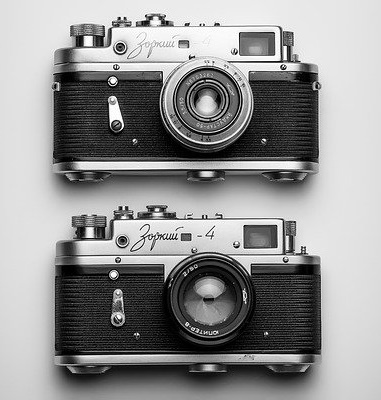 And the
prize-winning
photos are...
VIEW THE EXHIBITION
The Hidden Talents of Paper: Pop-Up Cameras, Planetariums and Other Work by Kelli Anderson
Kelli Anderson is an artist, designer, animator, and tinkerer who pushes the limits of ordinary materials by seeking out possibilities hidden in plain view. Her books and projects have included a pop-up paper planetarium, a book that transforms into a pinhole camera, and a working paper record. Intentionally lo-fi, she believes that humble materials can make the complexity and magic of our world accessible.
The Human Cost of Frozen Conflict
by Kristin Anahit Cass
Faced with the use of violence to enforce geopolitical borders, people struggle to preserve culture and community. Within Armenia and the rest of the SWANA (Southwest Asia and North Africa) region, as well as across the world, the human cost is painfully high. This lecture considers the hope of many to end the bloody cycle of violence, learning to live together and embracing a better future for all.