Due to the COVID-19 Pandemic, the Stamelos Gallery Center will be closed until further notice. "Conversations in Glass: Selected Works by JB Wood" has been postponed until further notice and the 2020 Open Competition has been canceled. Gallery staff are currently working regular hours remotely. Please feel free to contact gallery staff by e-mail with any questions.
Halal Metropolis
January 17 - April 3
Special Saturday hours: 12 noon to 5:00 p.m.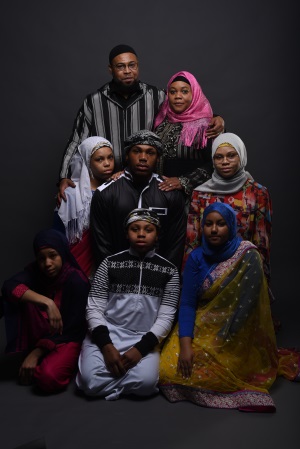 Halal Metropolis is a travelling series of exhibitions by artist Osman Khan, photographer Razi Jafri, and historian Sally Howell, that explores the facts, fictions and imaginaries of the Muslim population(s) in Detroit and Southeast Michigan as viewed through historical/archival research, documentation of current conditions, and explorations of future desires. The UM- Dearborn installation in the Stamelos Gallery Center will highlight the role that food, fashion, and holiday celebrations have played in augmenting Muslim visibility in the region.
The Halal Metropolis alludes to the established and growing Muslim population in Detroit and its metro area, one of the largest and most diverse Muslim populations in the U.S., whose visibility is both pronounced and extremely present in the city, yet whose narrative seems unusually silent in the larger Detroit story.
VIEW THE EXHIBITION WEBSITE
Conversations in Glass: Selected Works by JB Wood
Postponed
---
A David Small World
November 6 - December 17, 2020
---
The Stamelos Gallery Center is located on the first floor of the Mardigian Library at the University of Michigan-Dearborn. For more information, see below for contact information. Anyone requiring accommodations under the provisions of the Americans with Disabilities Act should contact (313)593-5087.