About the Exhibition
#107 Color Moves
, David Rubello
This retrospective exhibition features works spanning six decades of Detroit artist David Rubello's remarkable career. Displayed works highlight his fascinating evolution of art discovery and transitions: from drawing to painting, photography to printmaking, reliefs to sculpture, representational to abstract, and continuing... a continuum.
The artist, born in Detroit in 1935, studied painting and drawing at Cass Technical High School and the Detroit Society of Arts and Crafts (now the College for Creative Studies), under revered local artists Guy Palazzola and Sarkis Sarkisian. He later earned his BFA from La Academia Delle Belli Arti in Rome in 1961, a Certificate of Attendance from the Royal Academy of Fine Arts in Copenhagen in 1966, and an MFA from the University of Michigan- Ann Arbor in 1972.
Rubello's most well-known work, the iconic fifty-by-twenty-five-foot mural, "Color Cubes," displayed on a downtown Detroit building from 1973 to 2014, represented his unique approach to geometric abstraction. Throughout his career, he has investigated line, shape, color, perspective and dimensionality. The linear grids and bold, saturated color of Rubello's geometric abstract paintings experiment with spatial relationships. Many of his remarkable mixed media works incorporate interactive elements that attempt to lessen distance and barriers between the viewer and the piece.
Rubello's work has been included in numerous solo and group exhibitions throughout the USA, Germany, Netherlands, Copenhagen, Denmark, Italy, Spain, and South Africa. He worked for GM Design for twenty-two years as a clay modeler and taught painting and drawing for many years at the University of Michigan, Ann Arbor, the College for Creative Studies, Gennessee Community College, Pennsylvania State University, and Towson State University.
The artist still paints every day. Rubello states that he "tries to make things that last and that are immediate and speak to a viewer right away." He encourages the viewer to be open to what's there and look with fresh eyes.
My first attraction to color and making art was at age five with an awe inducing glimpse of large jars of pure poster colors in school. Overwhelmed by the beauty, I recall telling myself "That's what I want to do." It was my good fortune to have several wonderful teachers whose significant role I need to acknowledge in my decision to make ART my life.
Both of my parents were born in Sicily. My father came from Partrenico and my mother from Cinisi. I was number seven of eight children and my birth name was Ludovico. Miss Daken was the first to share with me, at the age of eleven, her precious book on the Italian Masters. What an eye opener that was! That memorable experience encouraged me to be an "artist."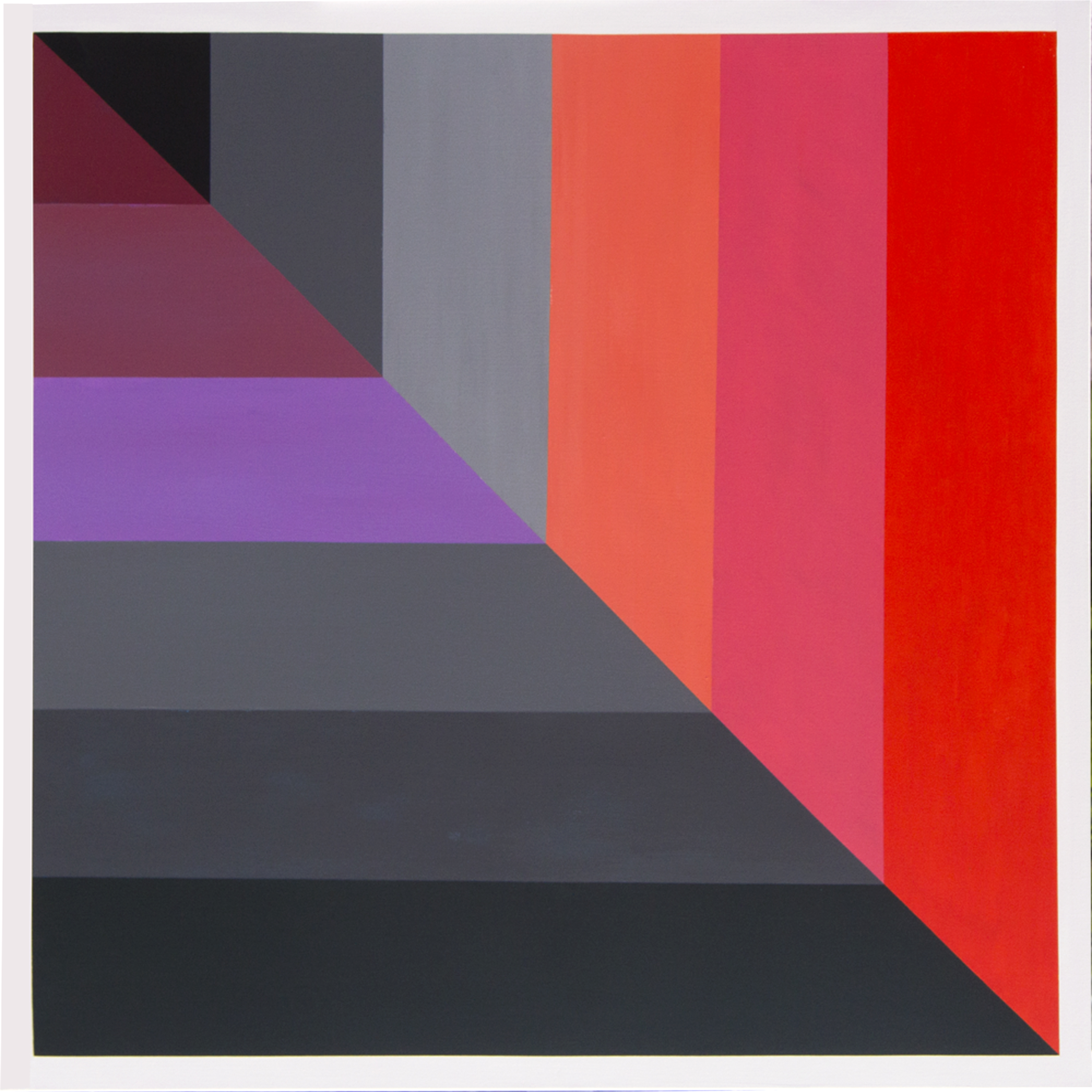 #15 Color Moves
, David Rubello
My teacher Donald Brackett at Cass Technical High School reminded me to "Carry a sketch book wherever you go," and Cyril Miles instructed me to "Experiment... experiment" in her Saturday morning classes at the DIA. Dorothy Skewis found me a summer job in a silk screen printing shop on Detroit's Brush Street. It was there that I learned to make photo screens.
I continued figure drawing classes with Robert Diebboll and studied with Guy Palazzola who introduced me to making photograms. Palazzola also secured a scholarship for me at the Detroit Society of Arts and Crafts. My four-year scholarship was sadly interrupted after the first year by a two-year stint in the military where I kept a sketch book in my footlocker. I later was hired at General Motors Styling where I learned to work with a team of clay modelers developing full-sized futuristic models. Lloyd Redell, a former Arts and Crafts student, changed my life when he suggested that I take a leave of absence from GM in 1959 to study art in Rome.
My time at La Academia Delle Belli Arti in Rome was a grand adventure and the fulfillment of a dream. I studied with Franco Gentilini whose work was heavily inspired by Amedeo Modigliani. At that time, I was still doing figurative painting but held a deep curiosity for abstract art. Our classes were based on drawing or painting the nude model, and a student experimenting with abstract works was thrown out of the class! My own artwork gradually evolved to being non-figurative and then abstract.
At that time in my life, I was heavily influenced by Caravaggio and Klee. I am still inspired by the way Caravaggio composed and dramatized a subject with the power of shadow and light. For my second-year thesis, I chose to write about Klee whose paintings reveal a magical color and dream-like poetry. I was curious enough to retrace Klee's journey to Tunisia, and I hitchhiked through the desert to Sfax, a city which he had written about. Before leaving Italy, I made my first abstract oil paintings.
In 1970, I began working on the Measured Space Series. Painting is all about how we see... I initially created works using just line and one color, and then later multi-colors. My theory is that everything is measured for one reason or another. I began a painting by first making a linear, white grid, and then added some diagonal lines. This was important visually as it gave the impression of perspective without a vanishing point, and it created an ambiguous visual experience that is known as visual perception. My paintings are a visual puzzle concerning the time it takes to comprehend what the eye is seeing. A viewer looking at "Color Cubes" can observe how the painted color forms appear to be flippable.... receding and then coming forward... thus prolonging the viewer's visual experience. The concept of visual perception continues to interest me.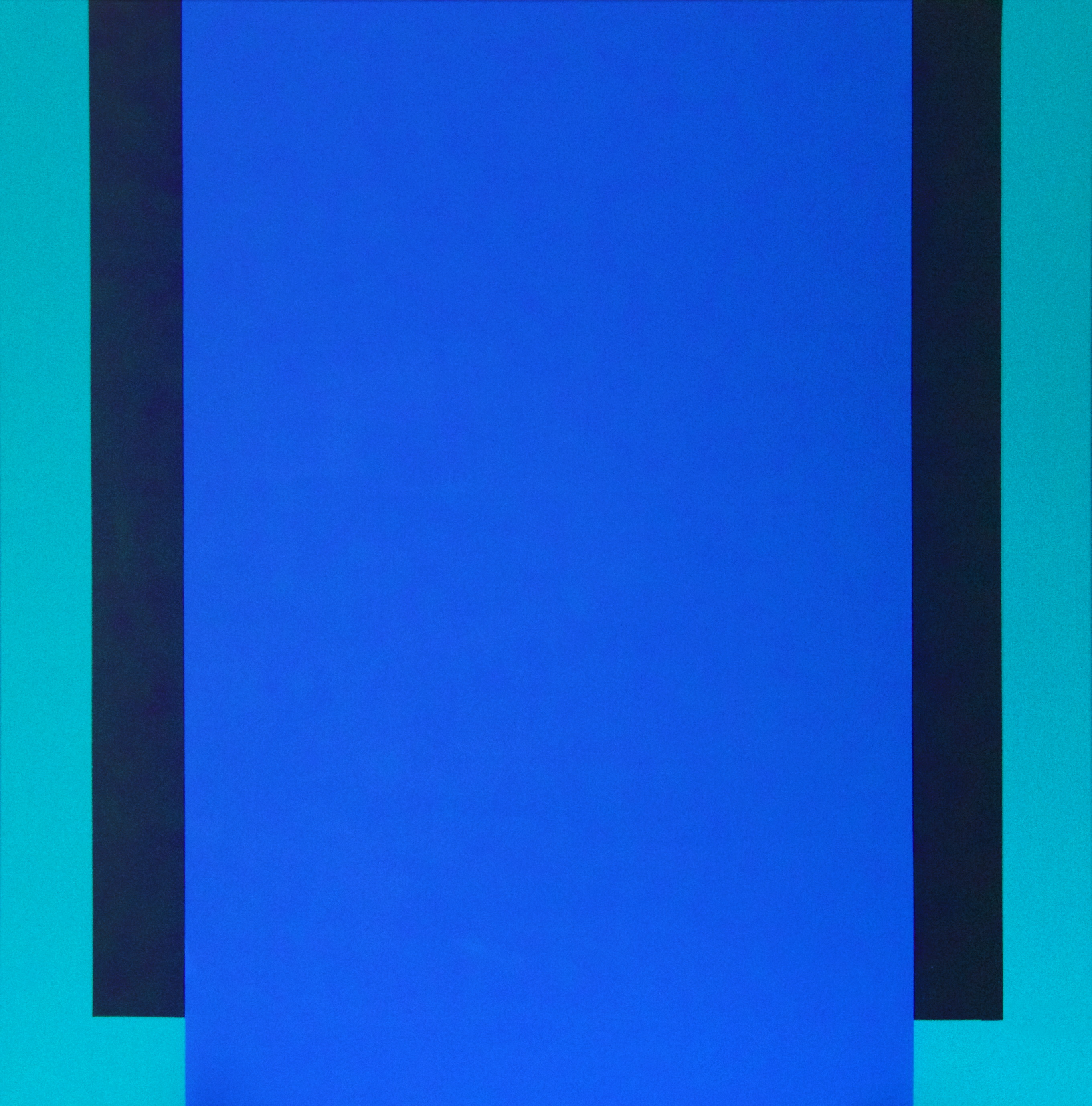 Edge #52 Series
, David Rubello
In 1974, I accepted a teaching position at Pennsylvania State University where I lived in a country setting. After a good snow fall, I ventured out to use black acrylic paint on a pristine field of snow. Knowing it would disappear, I documented this event with slide film. This experiment led to a series entitled "Black and White Progressions" which grew into an exhibition at the Penn State Hammond Gallery. Jack Mitchel, a composer working on his graduate thesis of an electronic music composition, asked if he could incorporate my "Black and White Progressions" into his thesis. I agreed, and we found two dancers (both dressed in black and white) to perform an intuitive dance. My snow painting slides were projected to fill the entire stage. The movement of the dancers created a changing black-and-white composition as they moved across the stage responding to the electronic music. I took slides as a document. Several similar events were held at other venues using other paintings from my Progressions Series.
In 1979, I was awarded a Ford Foundation Grant through Penn State University to travel to Italy and initiate work on a study of the beginning of perspective. Upon my return, I created a series of canvas paintings concerned with joining traditional perspective with the contemporary spatial issues of two-dimensional painting. My idea was to blend flat planes of color with a composition of linear structure. One of these paintings, "Blue Cut," was transitional for me. I broke up the atmospheric space with a solid blue rectangle... this artistic choice suggested to me that I should cease with illusion of space pieces and begin to build paintings in three dimensions. This pivotal discovery evolved into a new series of relief paintings and volumetric color constructions. I wanted to project planes of color out from the wall and have them intrude into the space, reaching out to the viewer.
In 1980, I accepted a visiting artist position at Towson State University, Maryland. It was there, while making small paper collages, that I discovered reflected color. I found it to be exciting and important enough to make it a part of my art paintbox. Many of my relief paintings and sculptures have this element of a quiet, and at times, brilliant color reflection.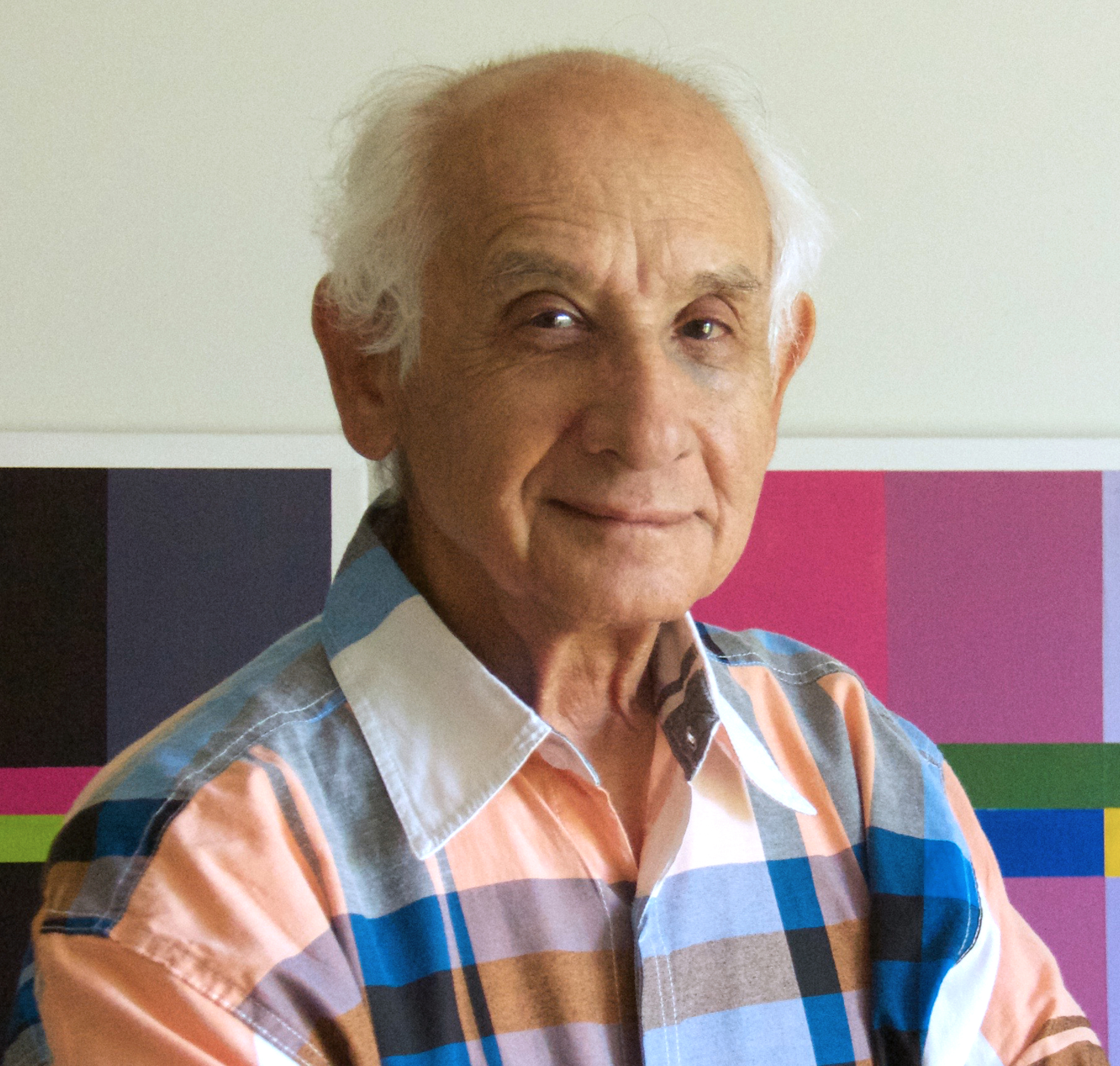 David Rubello. Photo credit: M. Keithan
With my Movables Series, I decided to challenge the idea that viewers should look at a work of art, but not touch. I created movable painting constructions that allow the viewer to interact with the work. Viewers are given permission to touch and move the pieces, and to recompose them at will.
In more recent years I have returned to painting on stretched canvas because it is a more immediate artform. The subject being COLOR! I work with the purely visual effect of how one color relates to another color painted next to it. My love of form and color comes first. I live with the pieces for a long time and see how they evolve as I work. I dream up color combinations and try to take risks. "Color Moves," "Color of Shadow," "Edge," and "Blue Surround" are some of my most recent series... all a continuing continuum.
I am never short of ideas, and I continue to paint and create every day!
--- David Rubello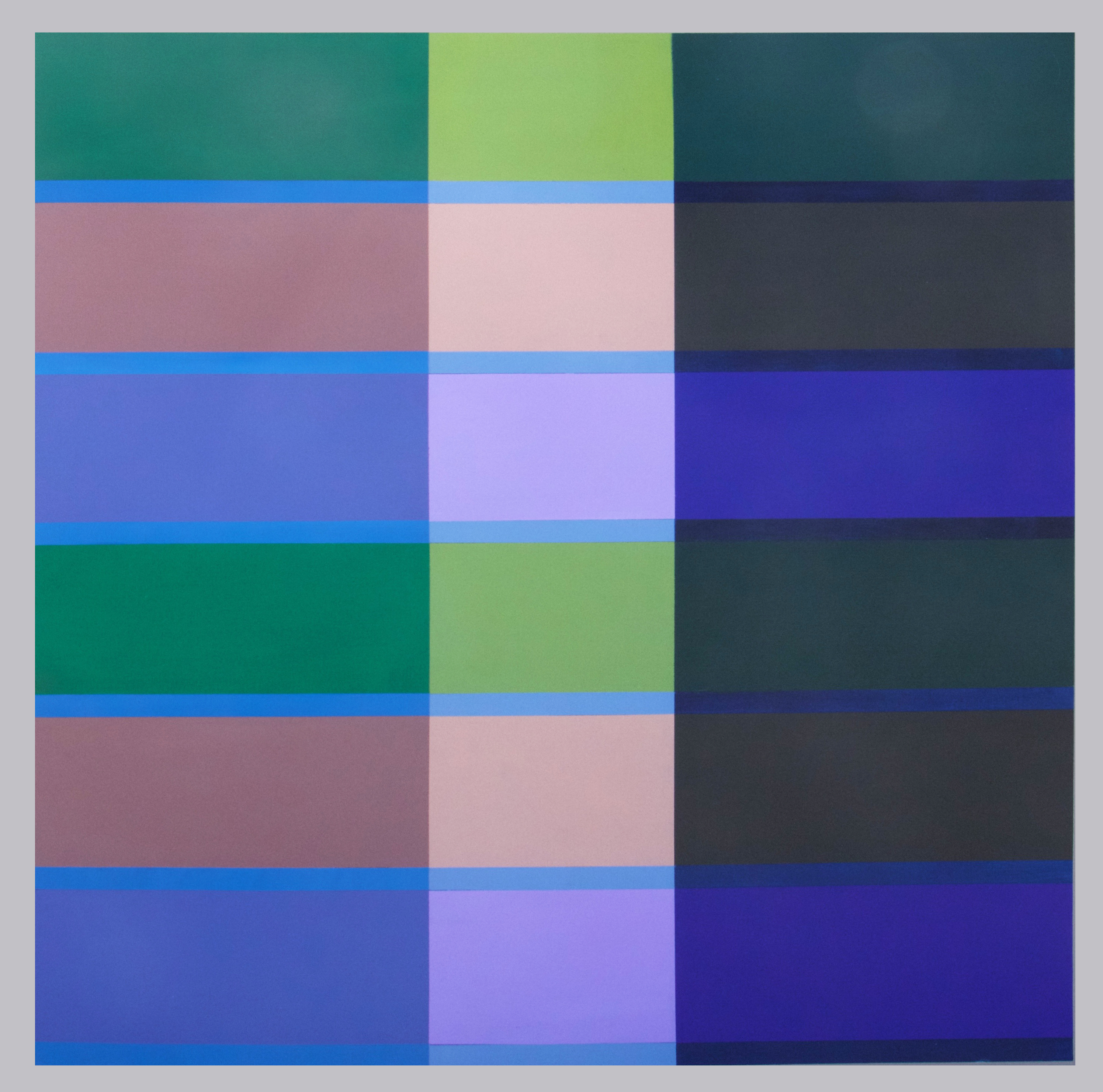 #88 Color Moves
, David Rubello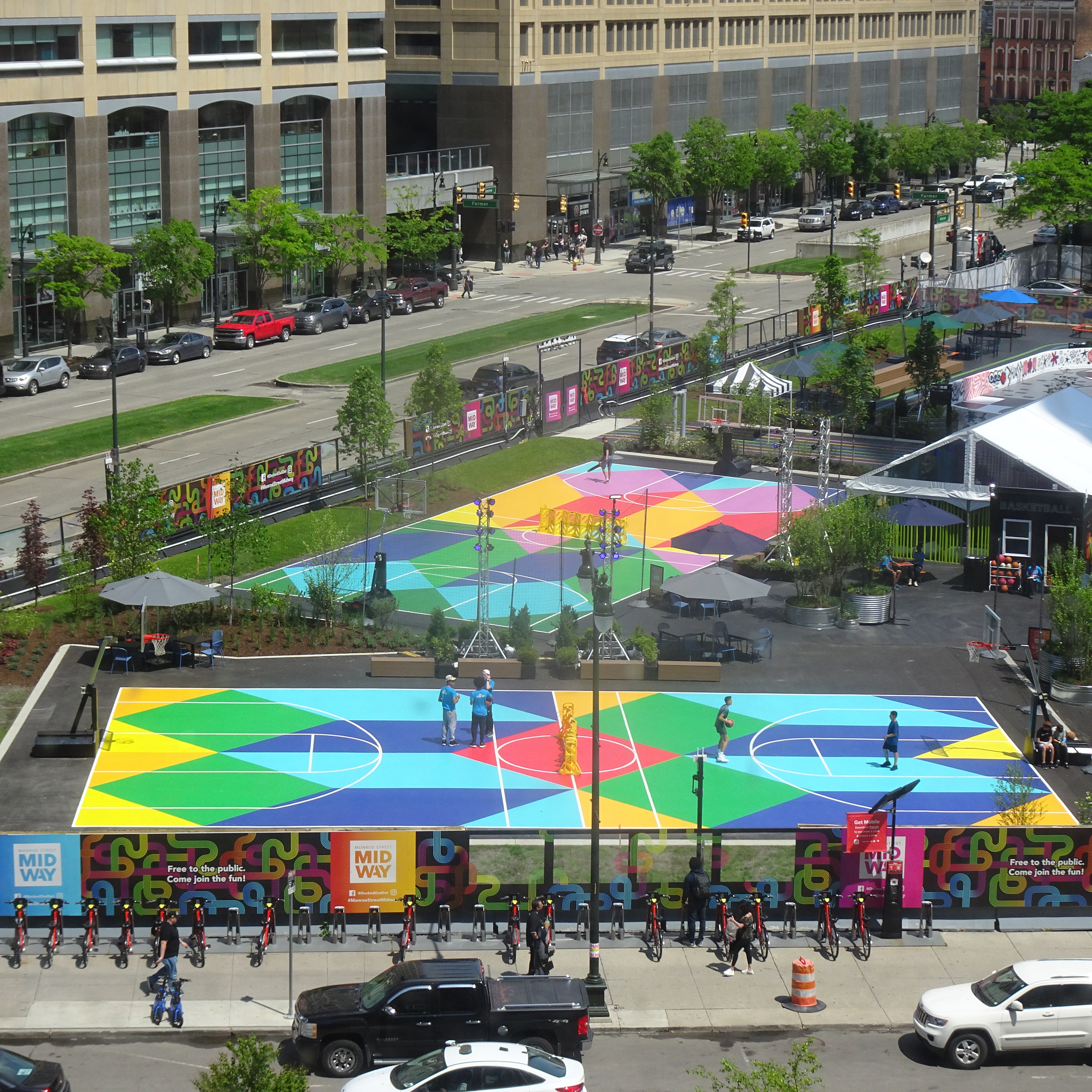 David Rubello Murals. Photo credit: M. Keithan
Exhibition Events
Program begins at 5:00 p.m. with Star String Quartet followed by David Rubello speaking at 6:00 p.m.
Reception is free to the public. Complimentary wine and hors d'oeuvres provided.
The Stamelos Gallery Center is located on the first floor of the Mardigian Library at the University of Michigan-Dearborn. For more information, see below for contact information. Anyone requiring accommodations under the provisions of the Americans with Disabilities Act should contact lacotton@umich.edu.