Innovation and Inspiration: The Art of Paper Engineering
Guest Curator: Karen Imarisio
September 9, 2021 - December 15, 2021
About the Exhibition
VIEW THE EXHIBITION WEBSITE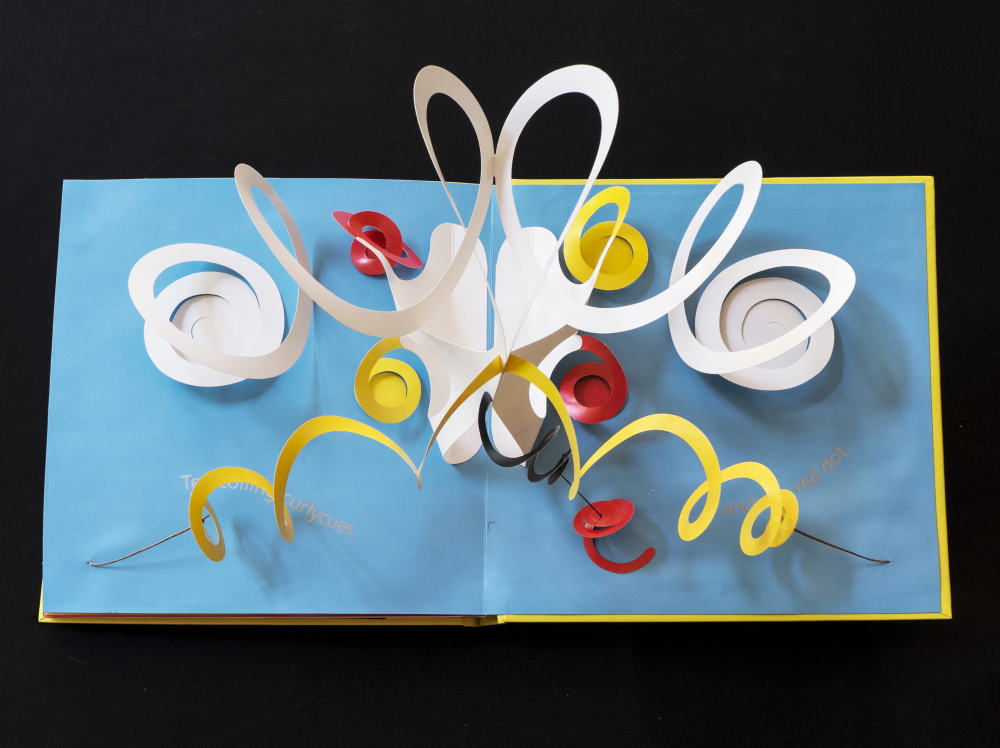 One Red Dot
, David A. Carter
Photo by Kip Kriigel
Innovation and Inspiration: The Art of Paper Engineering was created to introduce the Valerio and Karen Imarisio Pop-Up Book Collection to students and the greater community and to inspire ideas through the innovative work of professional paper engineers and artists on display.
The pop-up book collection was donated to the University of Michigan-Dearborn to spark innovative ideas through visual inspiration of various paper engineering techniques found in each book. It is an accessible collection with a special interest for engineering, robotics, science, biology, business, architecture, art, design and medical students.
Karen Imarisio began collecting pop-up books over thirty years ago after receiving Robert Sabuda's The Wonderful Wizard of Oz. Soon afterwards, she discovered the amazing pop-up books of David A. Carter and curiosity turned to a passion for collecting all types of paper engineering, origami and kirigami folding styles, especially books with modern designs.
Karen is an alumnus of the University of Michigan-Dearborn and Ann Arbor. Valerio had a close connection to the Dearborn area where he worked as an engineer at Ford Motor Company for over thirty years.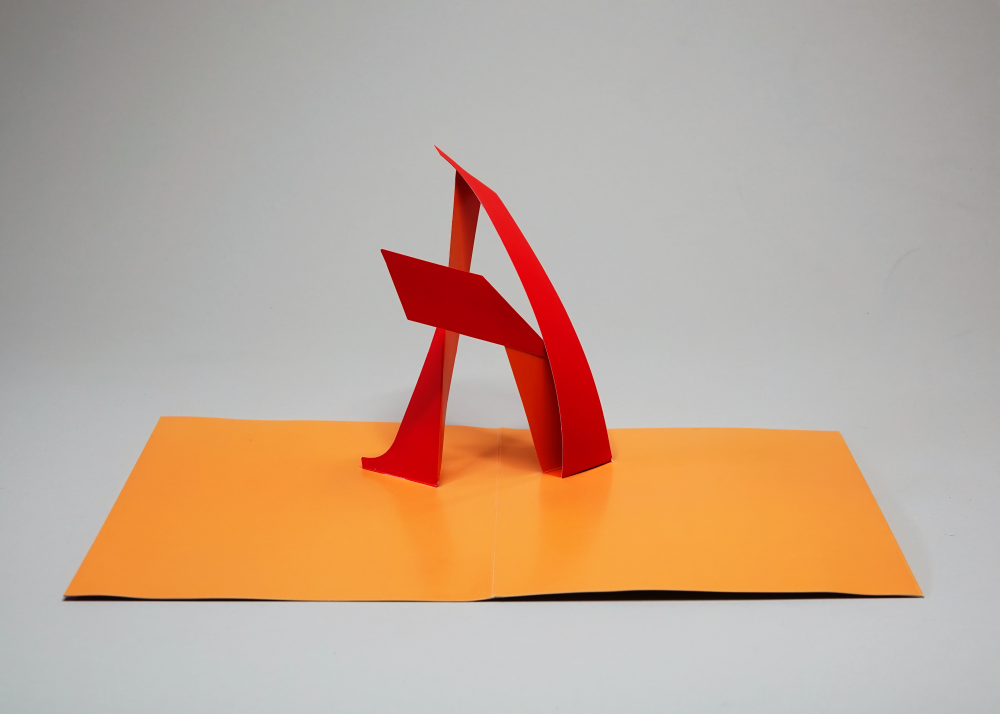 A to Z: Marvels in Paper Engineering (Letter A)
, Simon Arizpe
Photo by Kip Kriigel
In addition to the exhibition, I would like students to utilize the collection to inspire creative thought in their field of study. I encourage all students to come and take a look at the entire collection found on the fourth level of the Mardigian Library. Additionally, my vision is for the collection to be used as an educational tool for students of all ages as part of instructional classes, lectures and special events.
--- Karen Imarisio
Karen is serving as guest curator for this exhibition.
This exhibition features complex forms of paper engineering, origami and kirigami folding techniques through inspirational works found in pop-up books, the paper arts and commercial design. Several displays illustrate a direct connection between various applications and a similar pop-up book.
Today, paper engineers are producing pop-up books with complex paper folding designs that are truly astonishing. Applications inspired by these folding techniques have been used for: devices with flexible structural electronics, automotive crash absorbing structures, self-assembling and self-folding robots, folding solar panels for satellites, and transporting collapsible solar cameras and telescopes to space stations. Additional applications include creative packaging, ready-to-use self deploying relocatable structures, biomedical stents, folding kayaks, fold up bullet proof shields, architecture and art design.
The exhibition highlights several themes within each case. Various innovative paper engineering styles can be found using one central theme with each pop-up image displaying a unique interpretation of each theme.

By A Thread
, Lynne Avadenka
Photo by R. H. Hensleigh
Remarkable works by Lynne Avadenka, Matthew Shlian, and Matthew Richmond are also displayed in the exhibition.
Artist and printmaker Lynne Avadenka is known for her works that explore text and image, redefining the book form to create both artistic expression and the beauty of visual language.
By A Thread (2006)This book is woven around the conversations of two women: Esther, the Jewish Queen, and Scheherazade, the Muslim heroine of "A Thousand and One Nights." The book begins with Esther, as she first tells her tale and then advises Scheherazade, who then takes over the narrative. Although their stories are separated by hundreds of years, there are similarities: both were unwilling wives of insomniac kings. There were 1000 women that came before each of these women in the tales of their lives. Esther and Scheherazade both told stories, both women spoke up and saved lives when they could have remained silent. Both utilized the only power each had at the time: the power of language. The title comments on the danger each woman was in, that their lives were hanging by a thread. The structure of the book reflects the weaving in and out nature of storytelling, and the text never ends, looping back from the end to begin again.
--- Lynne Avadenka
Ann Arbor artist Matthew Shlian is a paper engineer and his work is rooted in print media, book arts and commercial design. He uses his engineering skills to create complex paper sculptures which have led to innovative collaborations with scientists at the University of Michigan.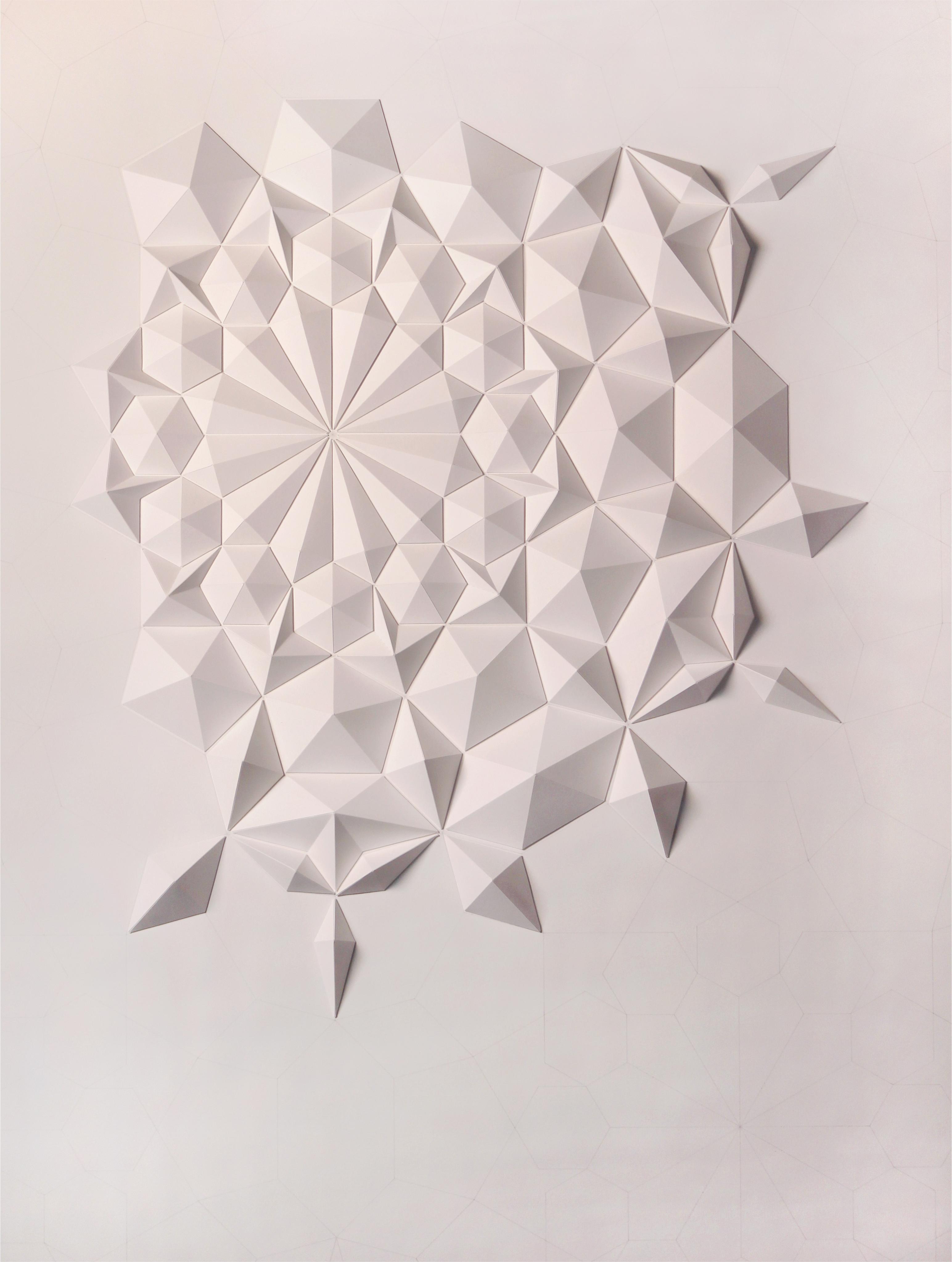 Ara 142
, Matthew Shlian
Photo by Matthew Shlian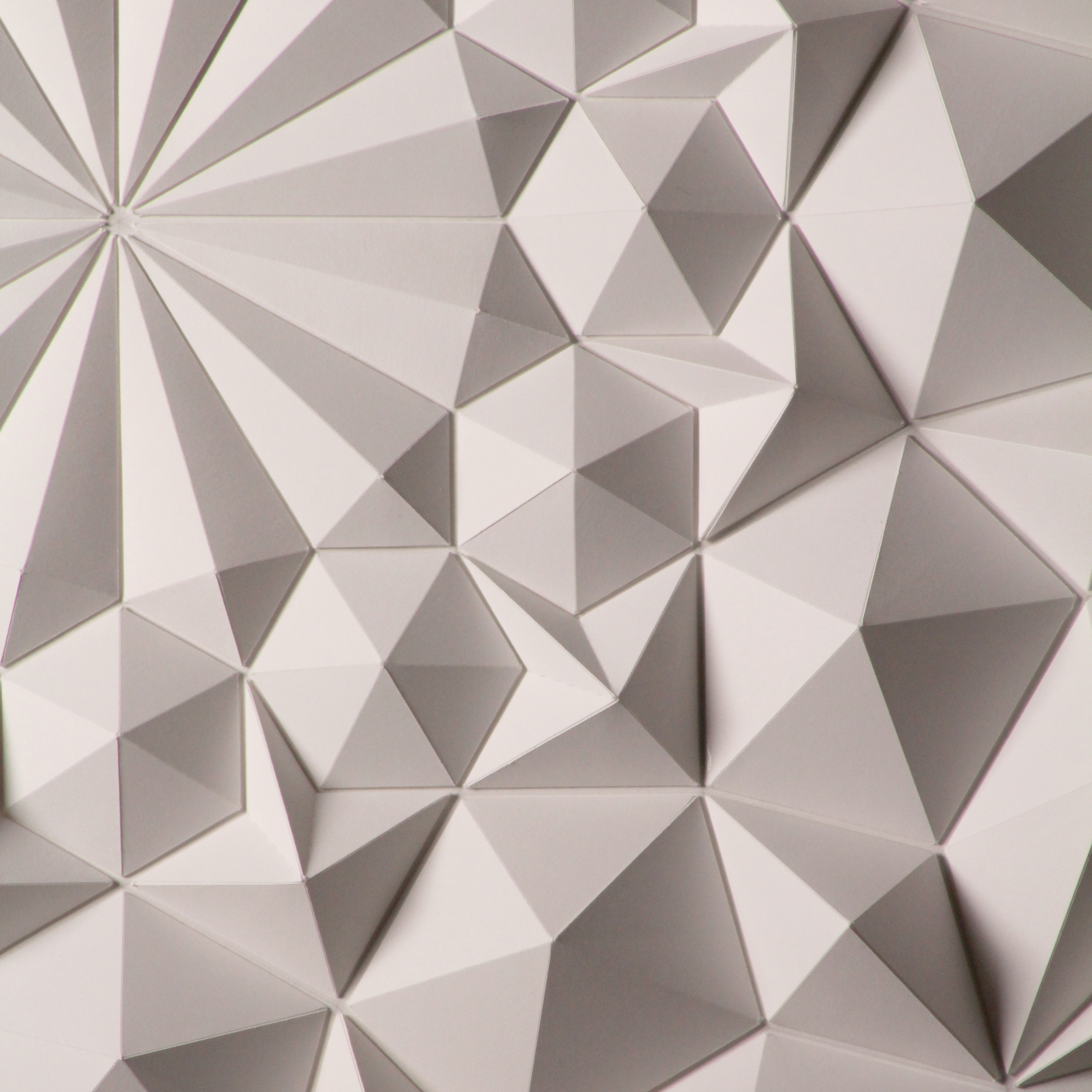 Detail of
Ara 142
Photo by Matthew Shlian

Ara 142

Crafted from acid free archival paper and glue, "Ara 142" is the 142nd installment in Matthew Shlian's ARA series begun in 2008. This piece features handcrafted paper forms in a pattern reminiscent of Islamic tile and tessellation design. The dimensional paper sits atop a light pencil drawing.
--- Matthew Shlian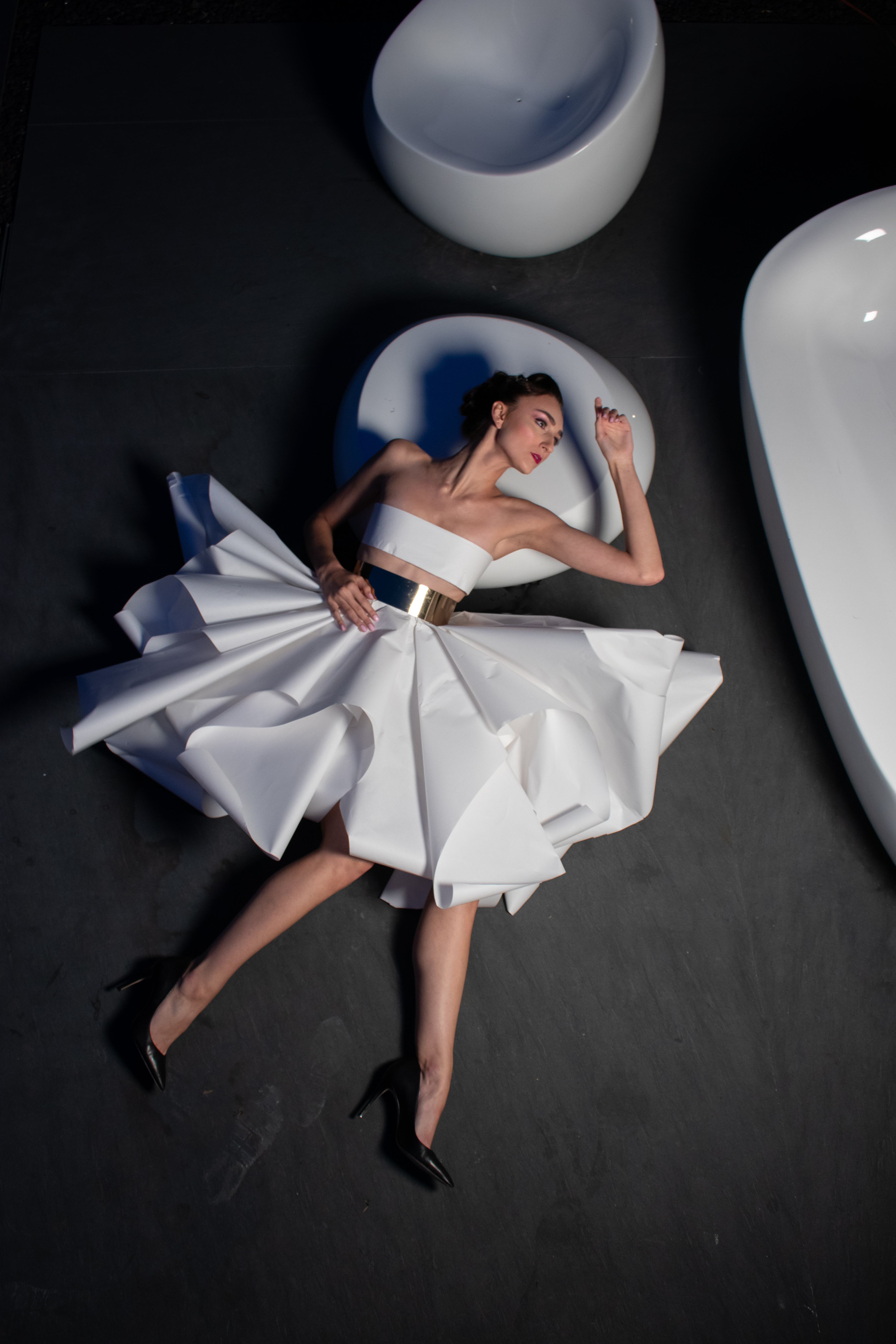 Untitled
, Matthew Richmond
Photo by Matthew Richmond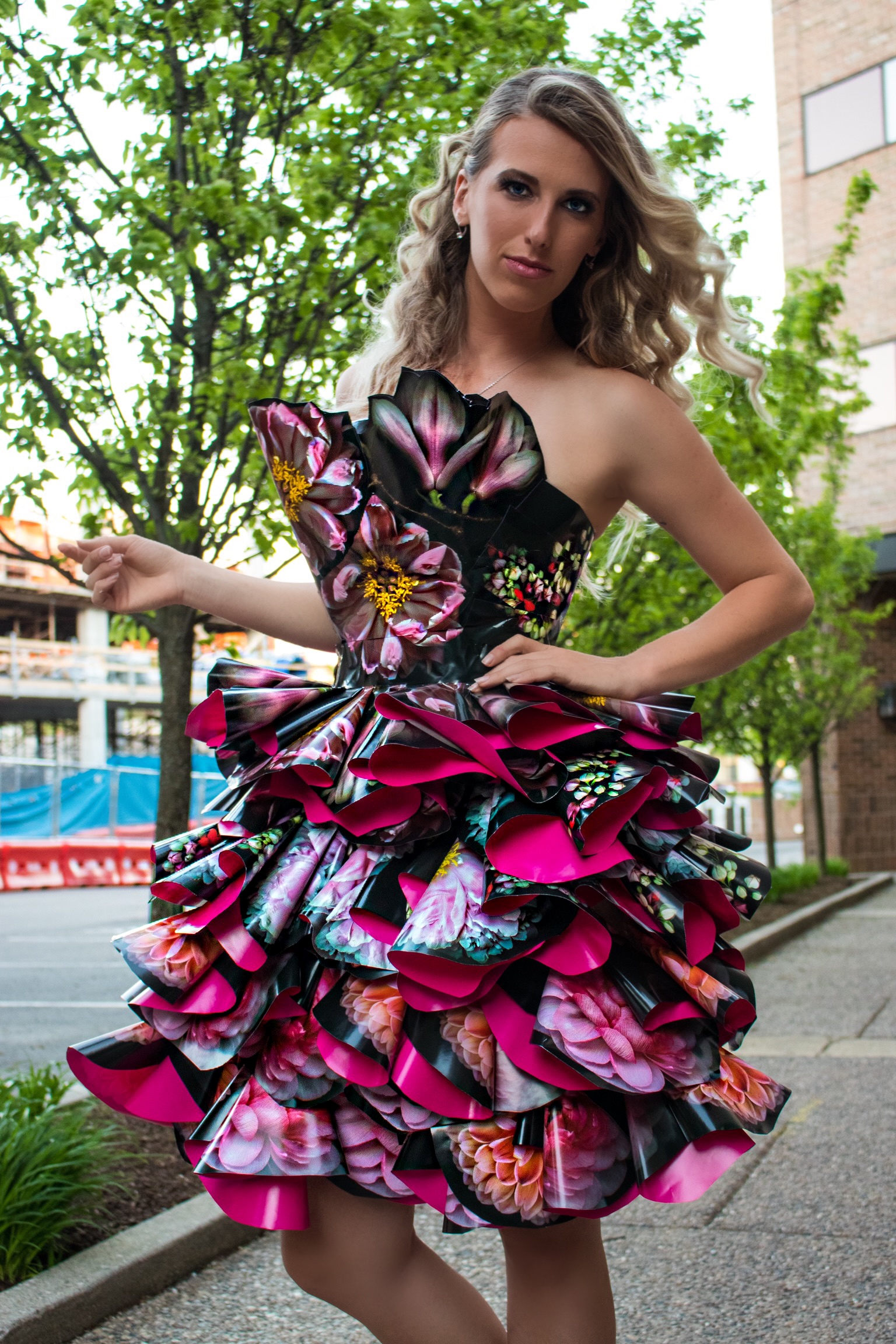 Untitled
, Matthew Richmond
Photo by Matthew Richmond


Paper artist Matthew Richmond has been creating unique avant garde fashion for over a decade. The images included here are examples of Matthew Richmond's past work.
He will be creating a remarkable life-size paper dress, inspired by pop-up books from the collection, that will be on view for the first time in the exhibition.
Video screens, kiosks and interactive tablets in the gallery show movement within various books on display, share informative links to direct applications found in all styles of paper engineering and provide extensive educational content for visitors.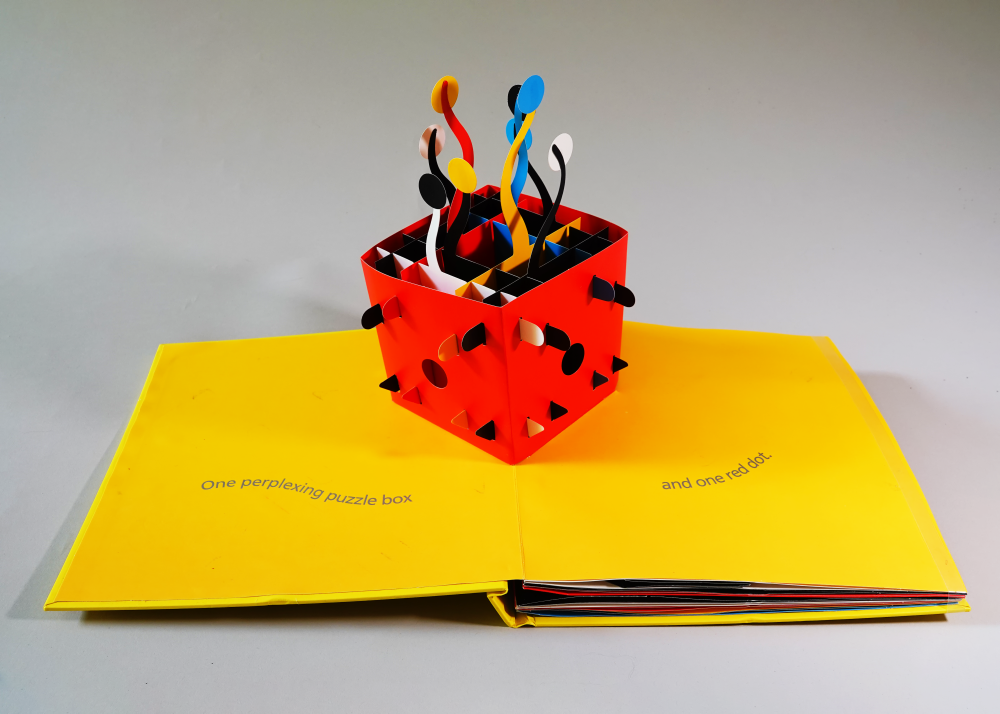 One Red Dot
, David A. Carter
Photo by Kip Kriigel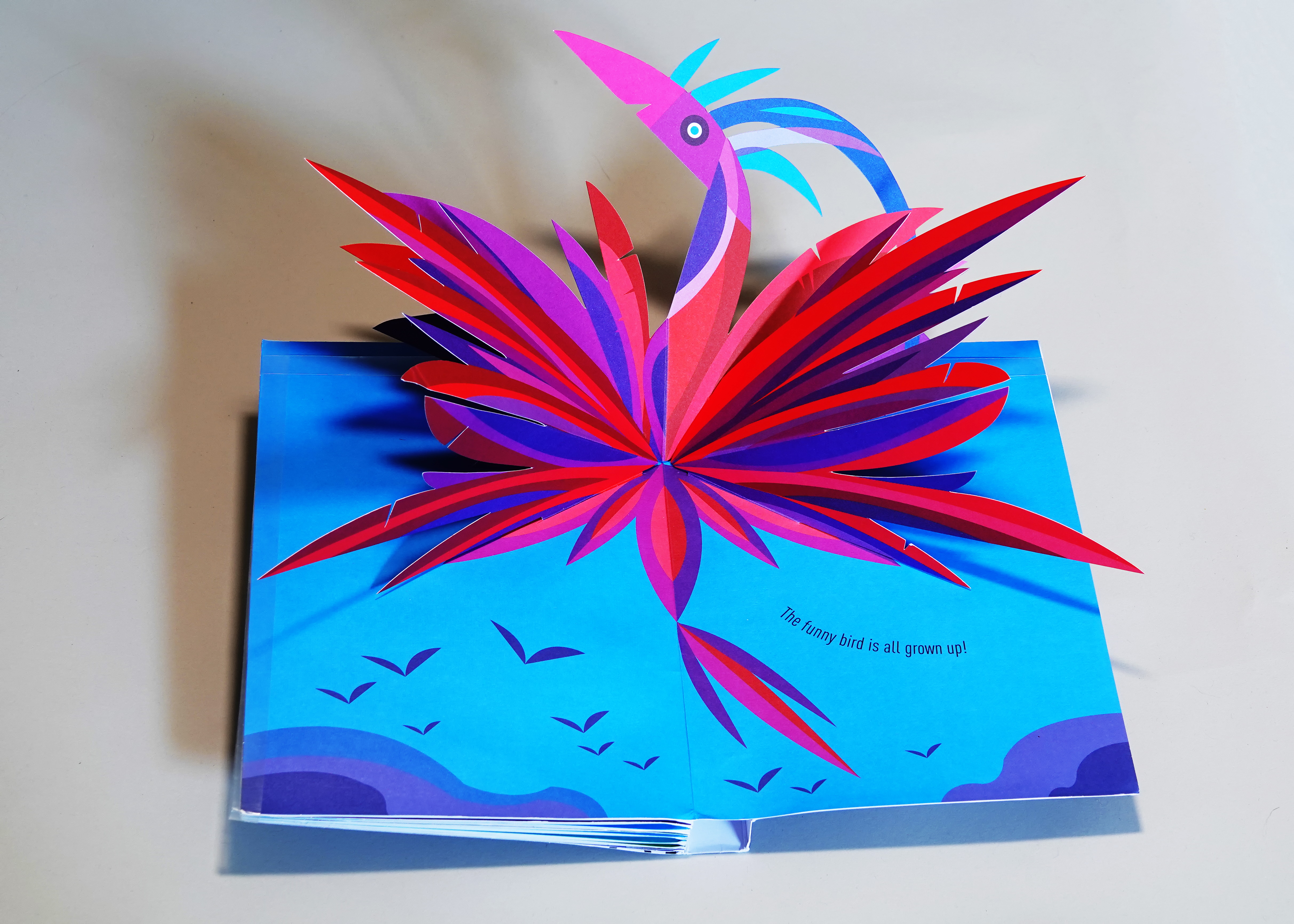 Funny Birds
, Philippe UG
© Editions des Grandes Personnes, 2011
Photo by Kip Kriigel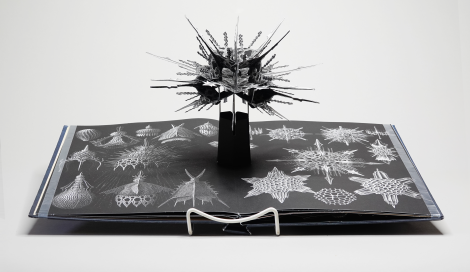 Creatures From the Deep: The Pop-Up Book
, Maike Biederstaedt
© Maike Biederstaedt/Prestel Verlag, Penguin Random House VG
Photo by Kip Kriigel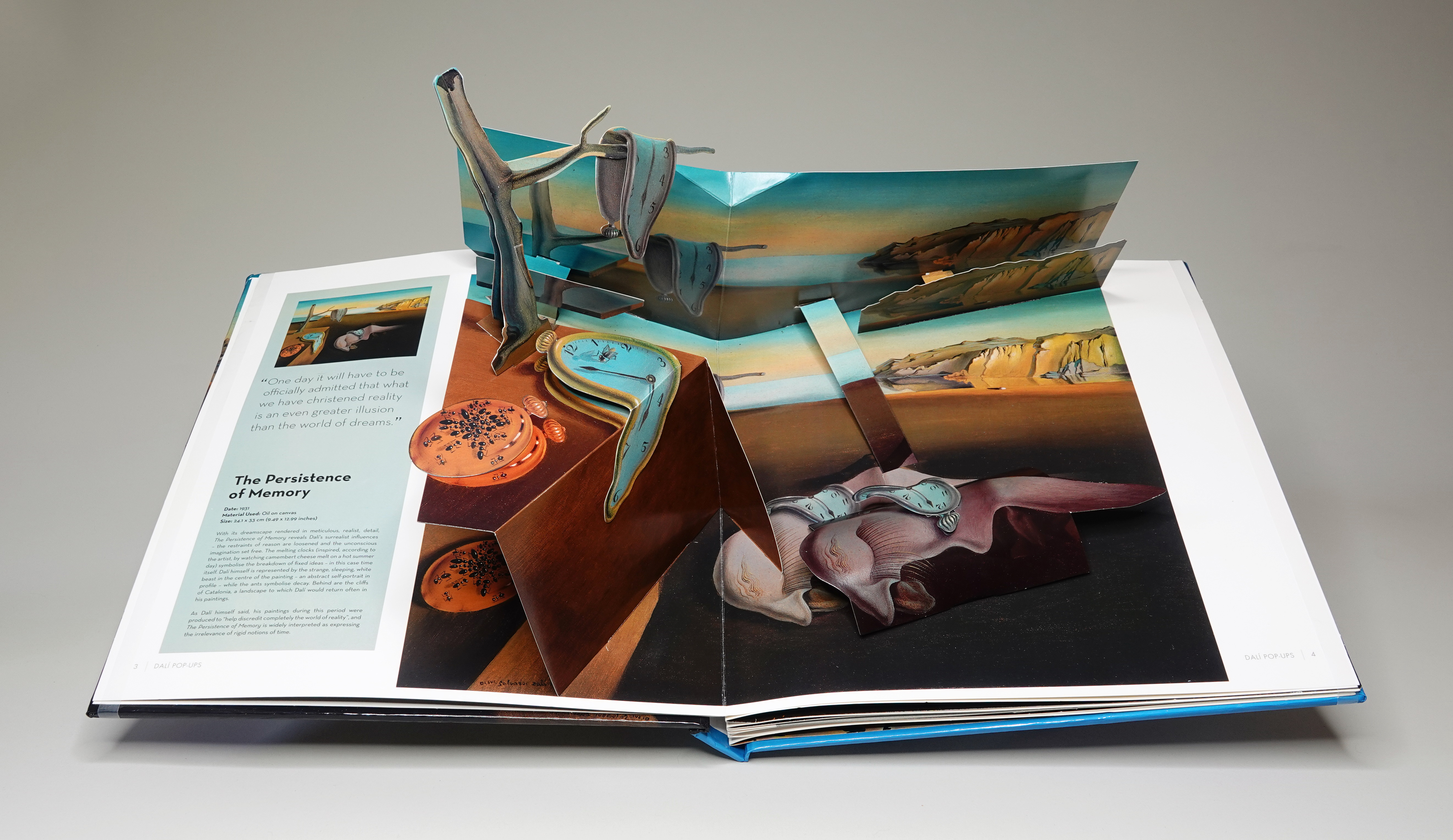 Dali Pop-Ups
, Courtney Watson McCarthy and Martin Howard
Photo by Kip Kriigel
I am honored to share a portion of our donated collection in this exhibition and I hope it will visually inspire our visitors to explore the entire collection and to learn about the remarkable world of pop-up books and the mechanics, design and art used in each paper engineering style.
--- Karen Imarisio

C'era una volta (Once Upon A Time)

Exhibition Lender
Your browser does not support playing this video.
Exhibition Sponsor
VIEW THE EXHIBITION WEBSITE