About the Exhibition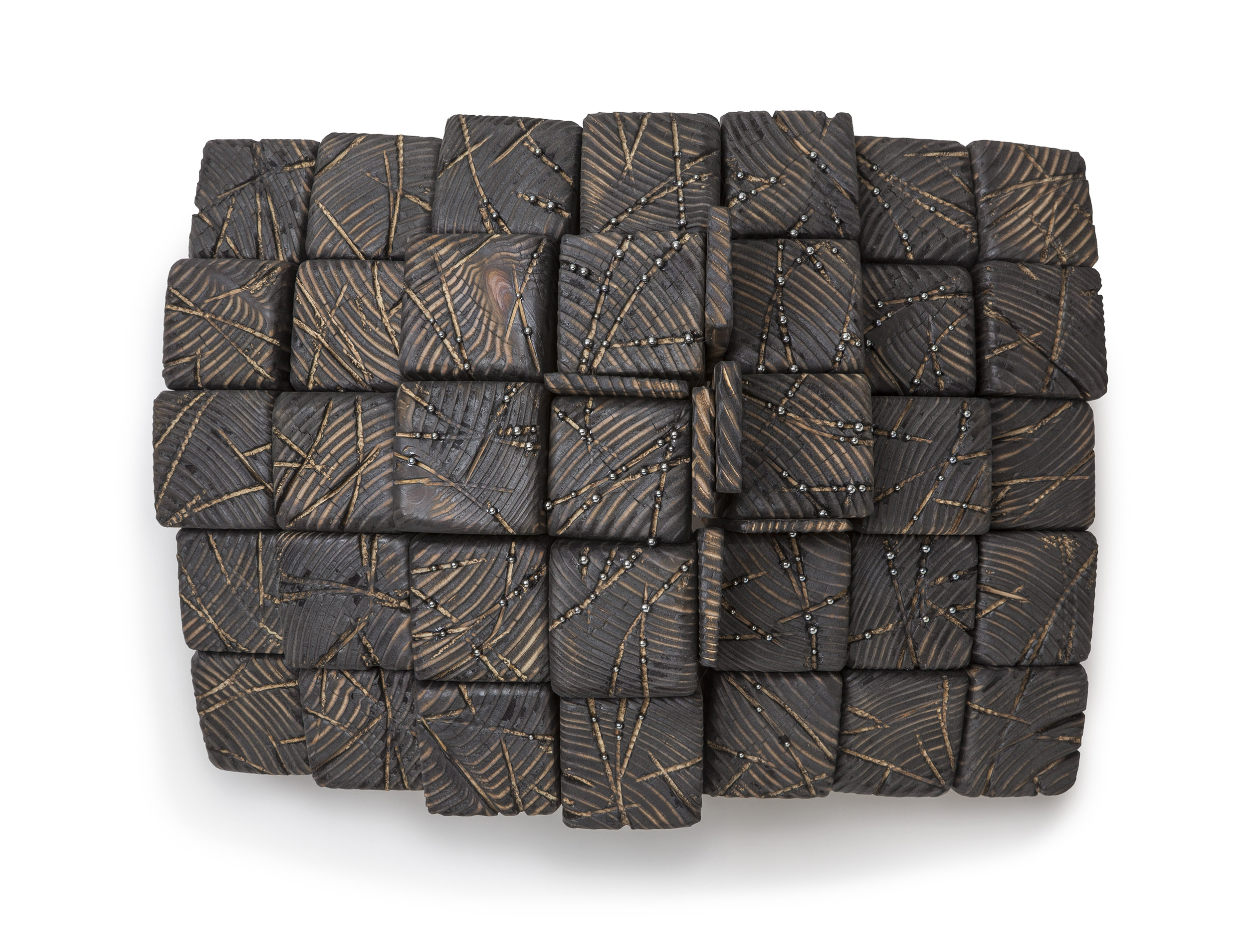 Starbright
, Doug Cannell
Learning Curves is an expansive collection of works by Detroit-based sculptor Doug Cannell. Though his work has been shown widely, this is the most comprehensive exhibition of his sculpture to date, with a diverse collection of pieces created over the past ten years.
The exhibition is anchored by two new series of work rooted in calligraphy, brushwork, and the written word. Many of these unique and adeptly constructed works are inspired by Japanese sumi-e calligraphy, in particular the Zen practice of the enso, an ink circle drawn briefly and in one stroke. Others are deconstructed and reimagined letterforms from the Thai, Armenian, Korean and other alphabets. But all are meticulously fabricated from bent, laminated plywood, in a process that interprets loose, inky brushstrokes and typography into three dimensions.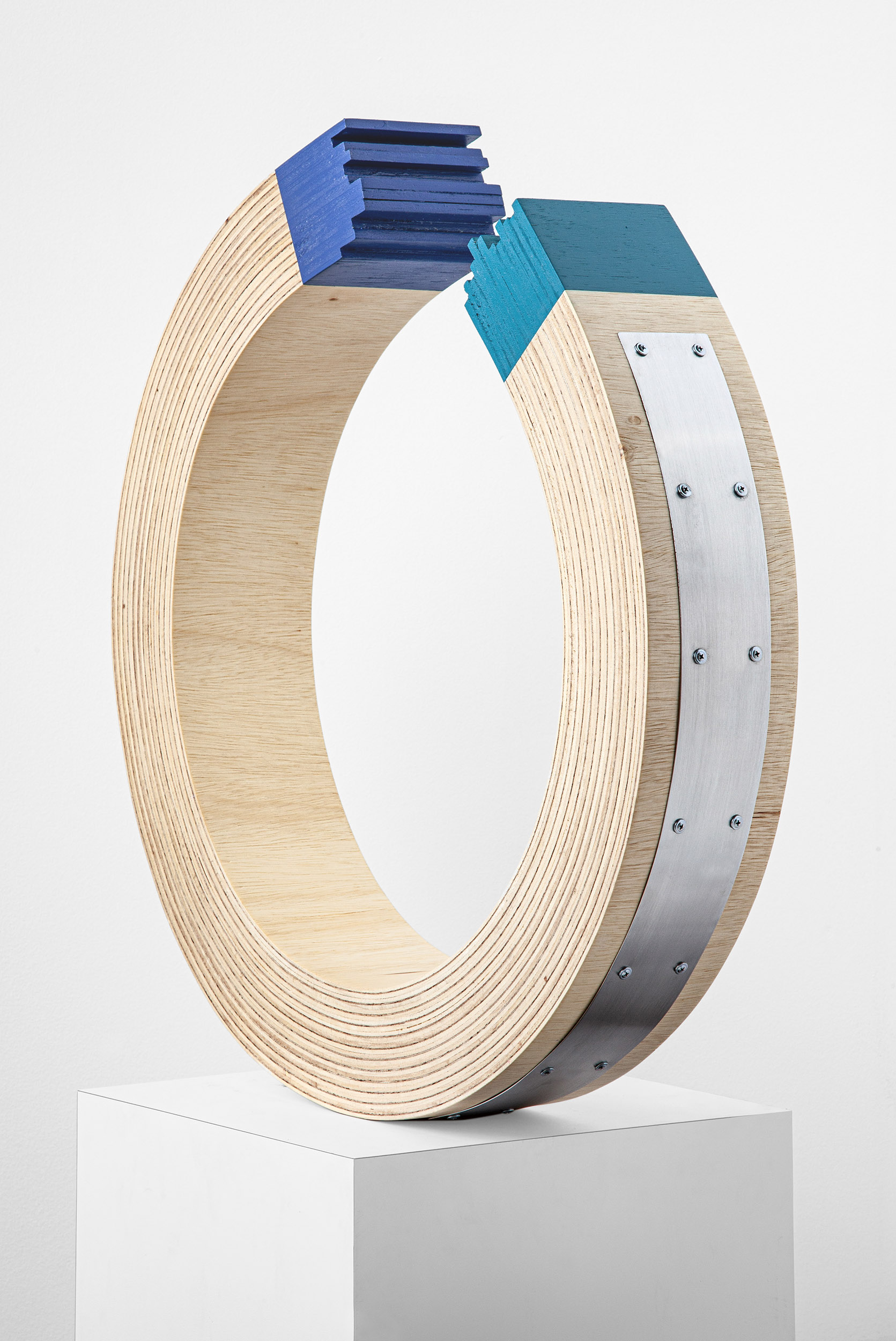 Choker
, Doug Cannell
The earlier works here are primarily steel and aluminum while the newer works are mostly wood. Though his choice of materials has evolved, an aesthetic throughline is present in his practice which often blurs the lines between art, craft and design. Cannell's work is distinguished by his use of contrasting materials, textures, and the juxtaposition of the organic and the industrial. Additionally, his sculpture is informed by his work as a graphic designer, a field in which he has also worked steadily.
The wide variety of materials and approaches indicated within this exhibition makes clear that Cannell is not one to stick too close to any particular medium or theme. His practice is essentially a series of experiments that result in what could as easily be described as inventions, as works of art.
In describing the roots of his particular aesthetic approach, Cannell states:
"I was born and raised in Detroit. When I was young, Detroit was a thriving city of almost 2 million people, most of whom worked for car companies or in the supply chain that fed them. Due to economic downturns, racial tension and violence, and white flight, over the decades that followed, the city famously fell from prosperity and became a shell of what it once was. A metropolis engineered for 2 million residents now had a scant 600,000, leaving abandoned factories, schools, homes, businesses and vast areas of empty space.
I was a witness to this epic transformation. I watched as abandoned houses began to cave in on themselves, as neighborhoods were cleared creating unintended green space, miles of storefronts went empty, and a rusty patina accumulated over massive industrial buildings.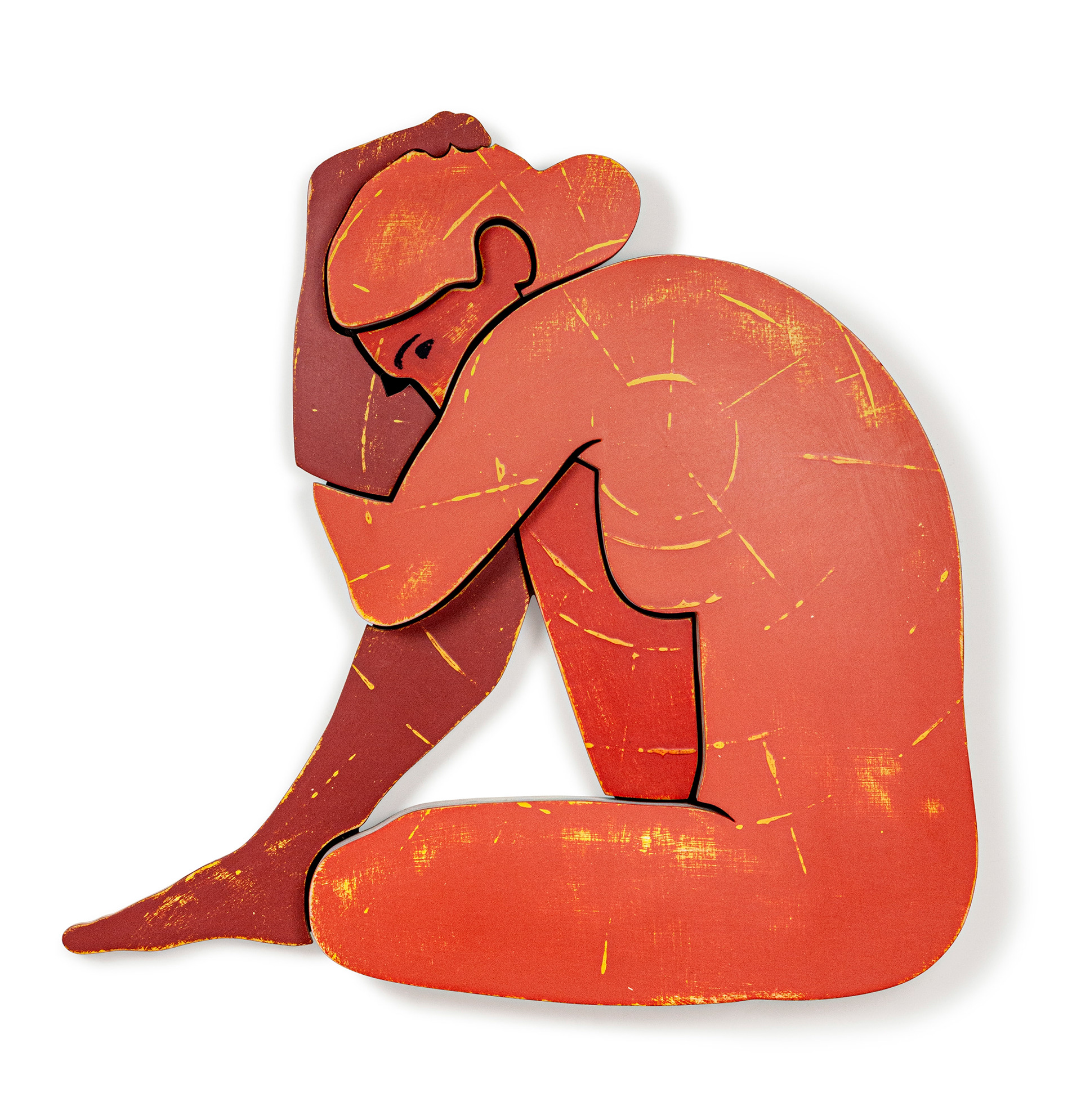 Afraid to Bloom
, Doug Cannell
At the same time, I was being raised by white liberal parents who refused to join in that escape to the suburbs. My father was an organized and methodical man who made his living as an architect. The graphic precision, detailed drawing and impeccable lettering that architecture demanded of him always fascinated me. And all that exactitude was in the service of a very creative goal — designing a building.
These rather paradoxical experiences laid the groundwork for my artistic aesthetic. I was — and still am — interested in a properly crafted product. But I am equally fascinated by loose (even messy) organic compositions like a splash of paint, the way leaves blow in the wind, or the way a bubble winds its way upward and breaks the surface of a liquid. Especially beautiful to me are things upon which time, erosion, and decay have had an effect.
I buy my "art supplies" at scrapyards, hardware stores and lumber yards. My ideas are most naturally rendered using industrial materials like steel and lumber, held together with rivets and screws. I find that these materials are as beautiful in their old age as they were in their youth."
— Doug Cannell
Cannell earned his BFA from Wayne State University and continued his studies at the College for Creative Studies - where he now teaches. He has exhibited in museums and art galleries throughout the United States and currently works out of his studio, a converted factory in Highland Park, Michigan.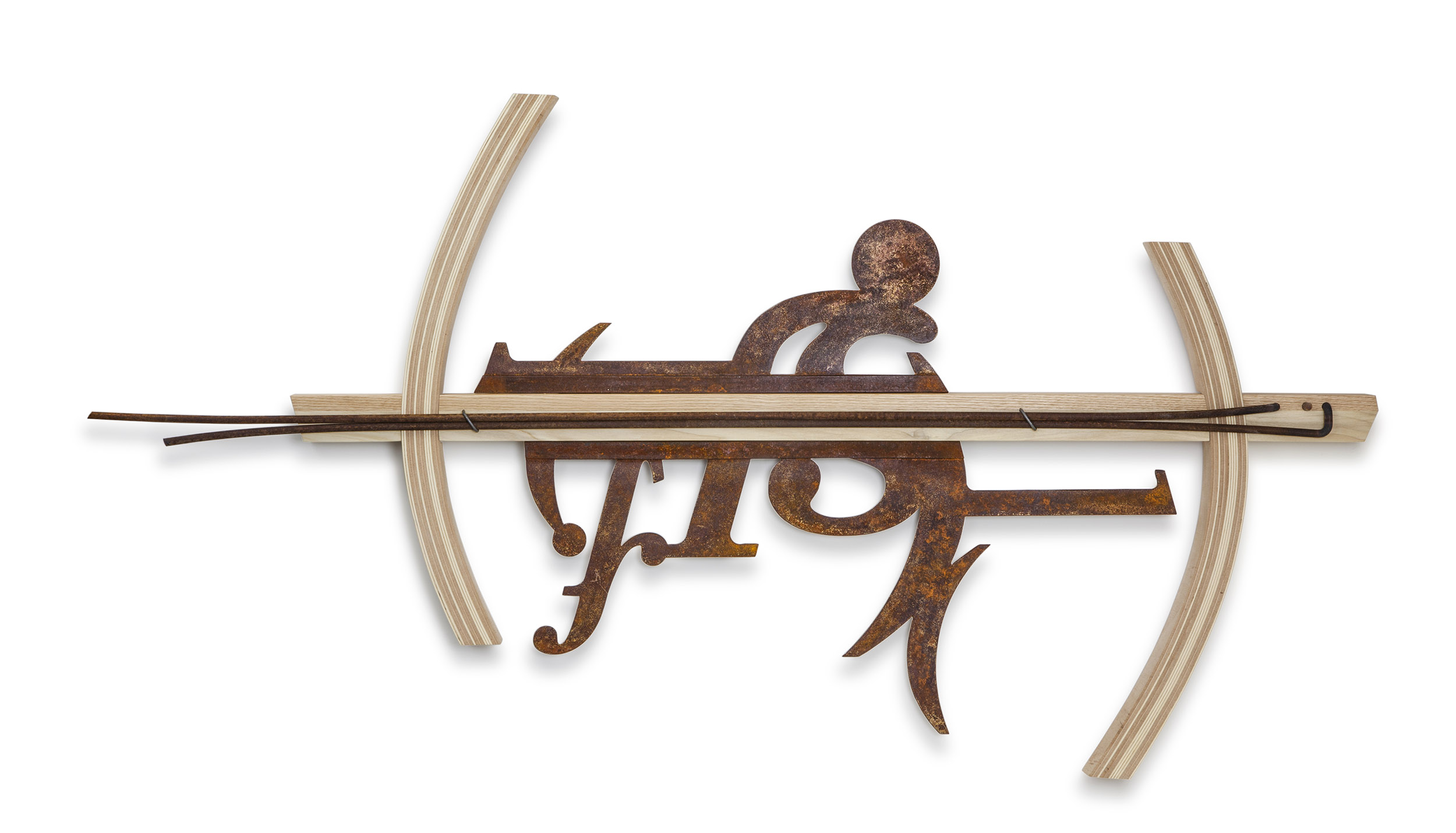 It's the Thought That Counts
, Doug Cannell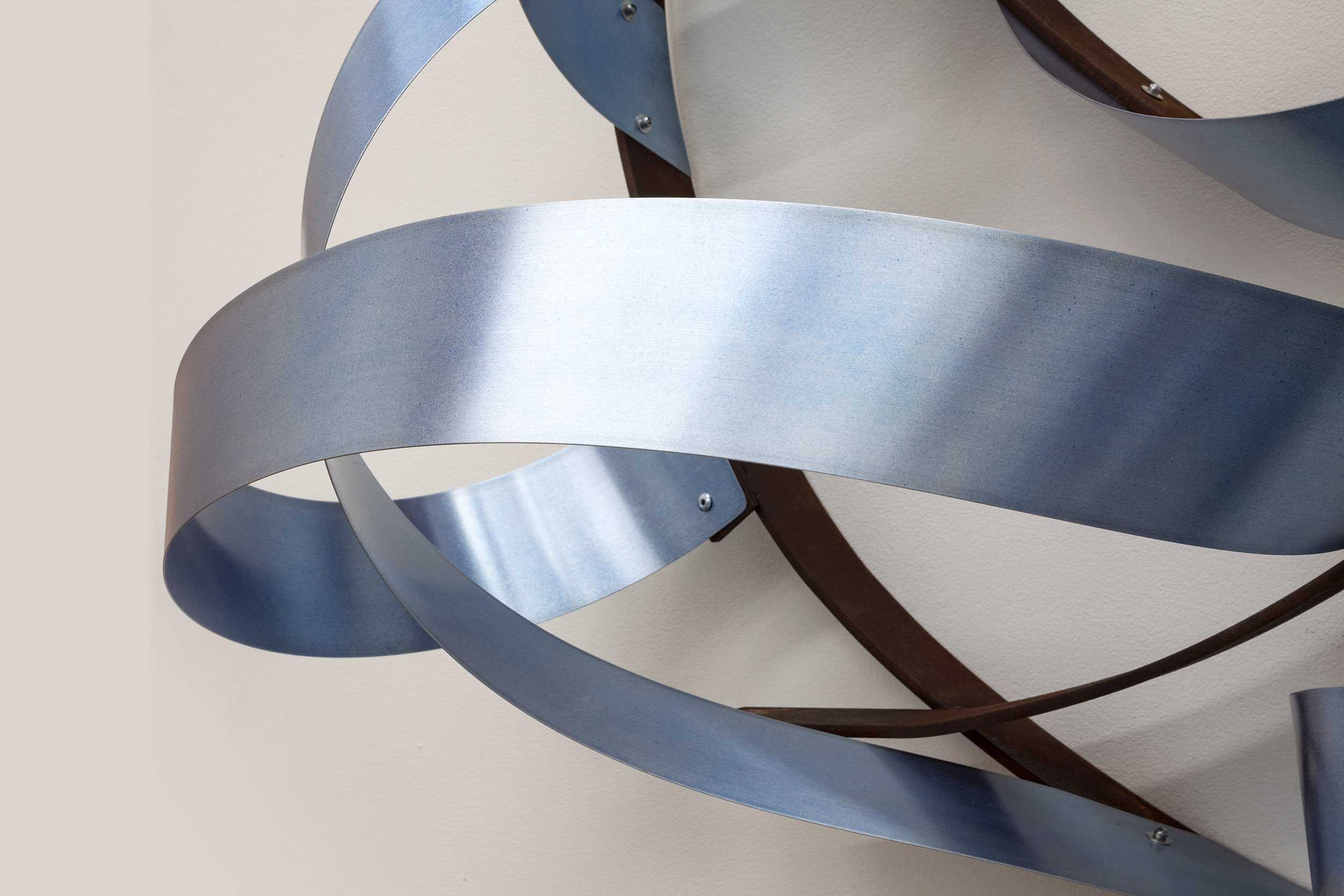 Brainstorm in Bluish
, Doug Cannell
Exhibition Events
Opening Reception
Thursday, October 19, 2023, 5:00 p.m. - 7:00 p.m.
Artist Doug Cannell will speak at 6:00 p.m.
Reception is free to the public. Complimentary wine and hors d'oeuvres provided.
The Stamelos Gallery Center is located on the first floor of the Mardigian Library at the University of Michigan-Dearborn. For more information, see below for contact information. Anyone requiring accommodations under the provisions of the Americans with Disabilities Act should contact lacotton@umich.edu.