Deliberate Misunderstandings: Embroidered Found Photographs
October 25 - January 11
About the Exhibition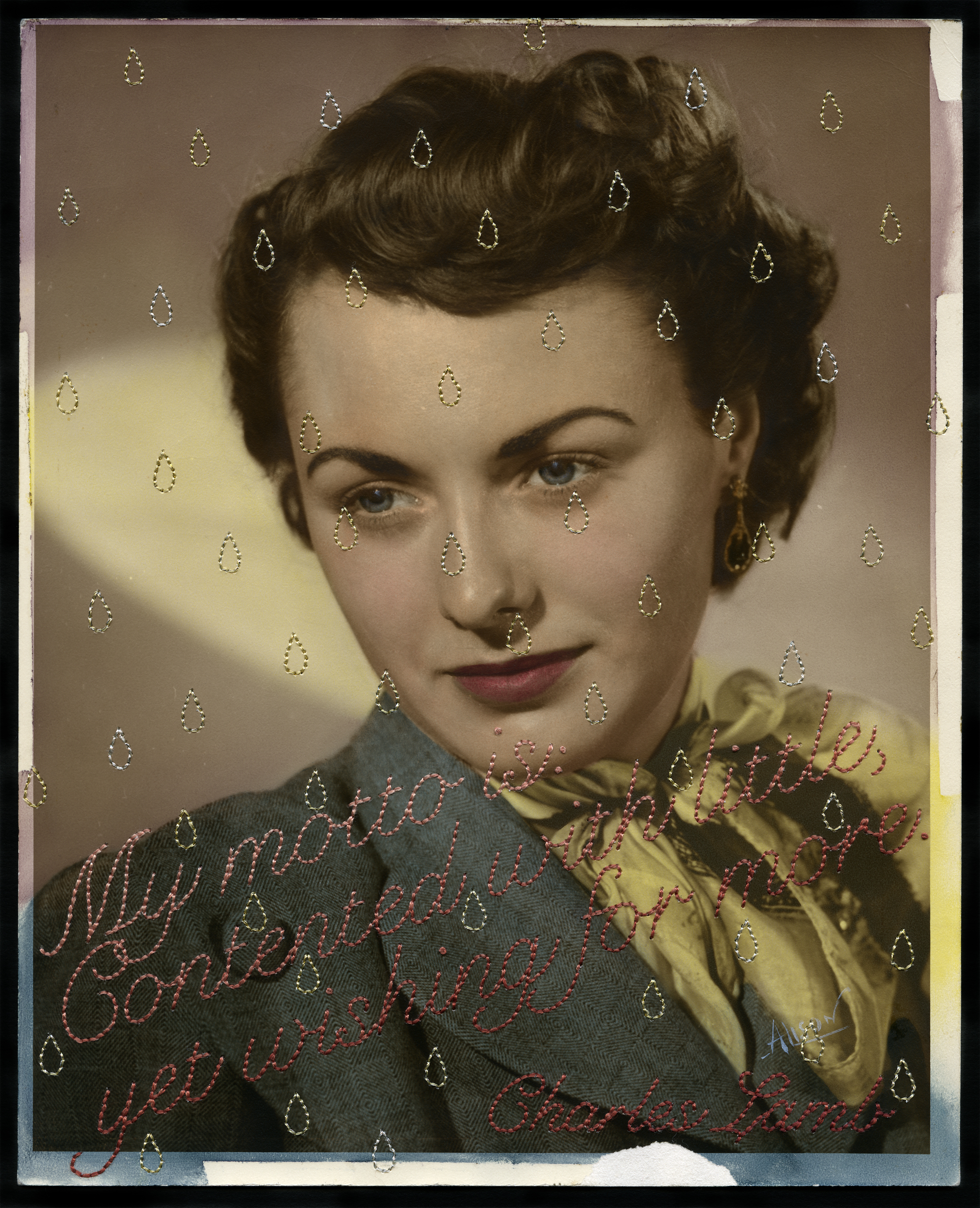 Jane Waggoner Deschner, from the maxim series (Lamb, motto), 2014, hand-embroidered found hand-colored studio portrait, 9.875" h x 8" w
Disappointing experiences and unmet expectations of "happy family" have zigzagged through my life. My mother's parents didn't raise her. When I was 13, she died after a three-year-long illness - no one told me that was going to happen. Nine months later my father married a widow with two children he'd met seven months earlier. Everyone became even unhappier than they had been. I was divorced before reaching forty, necessitating shared custody of two young children and causing an overall upheaval in the assumptions I realized I'd held about my life and future.
All this eventually led to my fascination with early and mid-twentieth century vernacular photographs. Nan Goldin wrote, "The snapshot (is) the form of photography that is most defined by love. People take them out of love, and they take them to remember - people, places, and times. They're about creating a history by recording a history." When I make art with another's photo, I tease out a common humanity not confined by time, place or circumstance. I explore our shared human condition to better understand my own.
In 2001, during my last semester in grad school, I began accumulating found vernacular photographs - my archive now exceeds 70,000 - primarily snapshots and studio portraits. Initially, I made large archival prints from scanned snapshots manipulated in Photoshop. In 2007, fatigued by hours at the keyboard, I began hand-embroidering quotes into studio portraits. Adding famous persons' words to vernacular images, I could ventriloquize thoughts my aging, maternal (increasingly opinionated) self wanted to express. Later, I added illustrative drawings and collaged/juxtaposed images to my work. Stitching by hand is a laborious, time-consuming process that provides me a satisfying, meditative intimacy with these mechanically-captured moments of unknown people's lives.
As I searched for new and different ways to incorporate found photos into my work, different series evolved entitled: maxim, garment, resilience, symbol, album, silhouette, a to z, domino mask, vanitas, crazy quilt, and mending. In September 2015 I started a new project: "Remember me: a collective narrative in found words and photographs." This project, now numbering over 500 individual pieces, intimately connects vernacular photographs with anecdotes culled from family/friend written obituaries.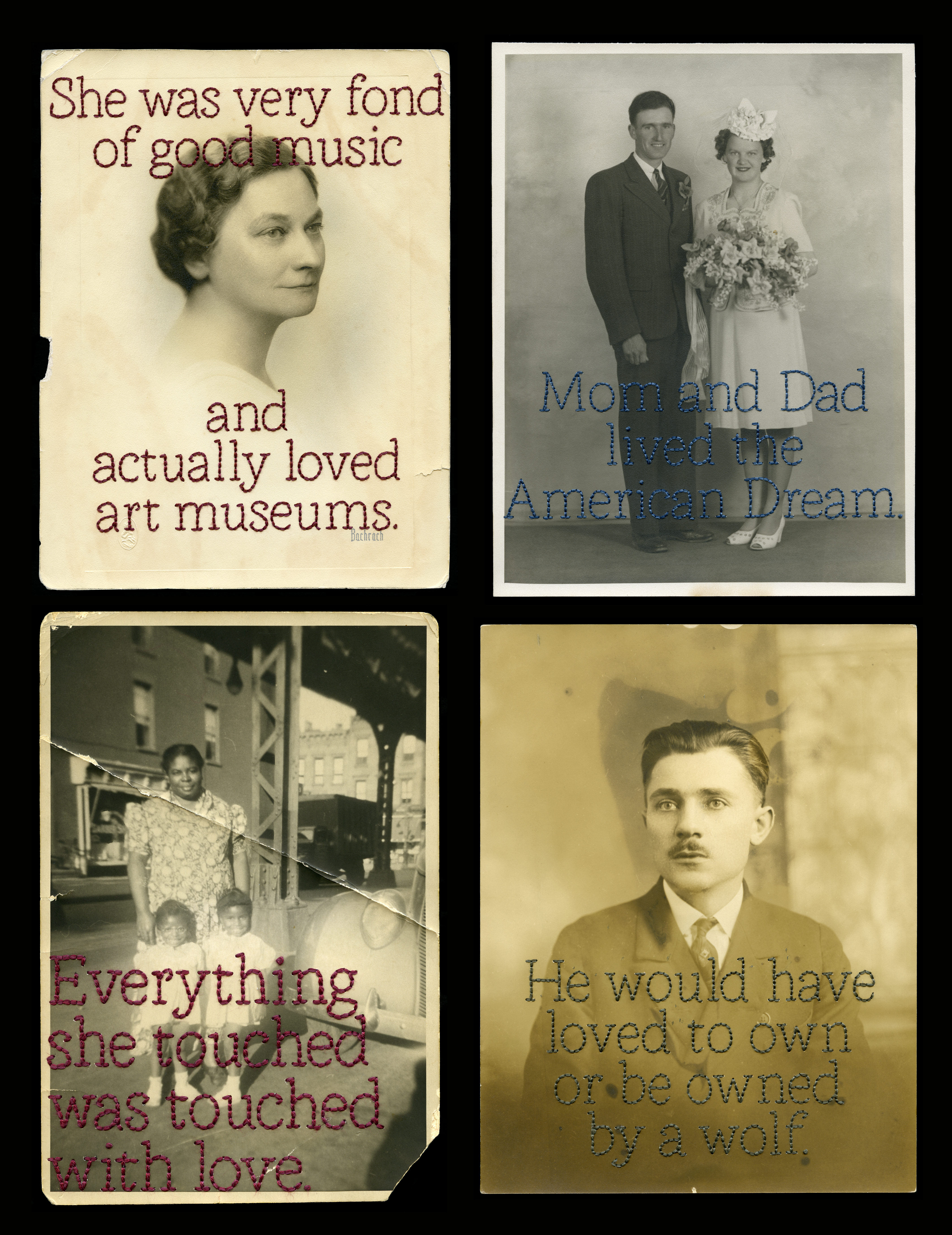 Jane Waggoner Deschner, samples from the "Remember me" project (SCR[WA], JWU [MT], JDS [UT], RFA [LA]), 2017–2018, hand-embroidered found photographs, pieces range from ±6" x 4" to ±10" x 8"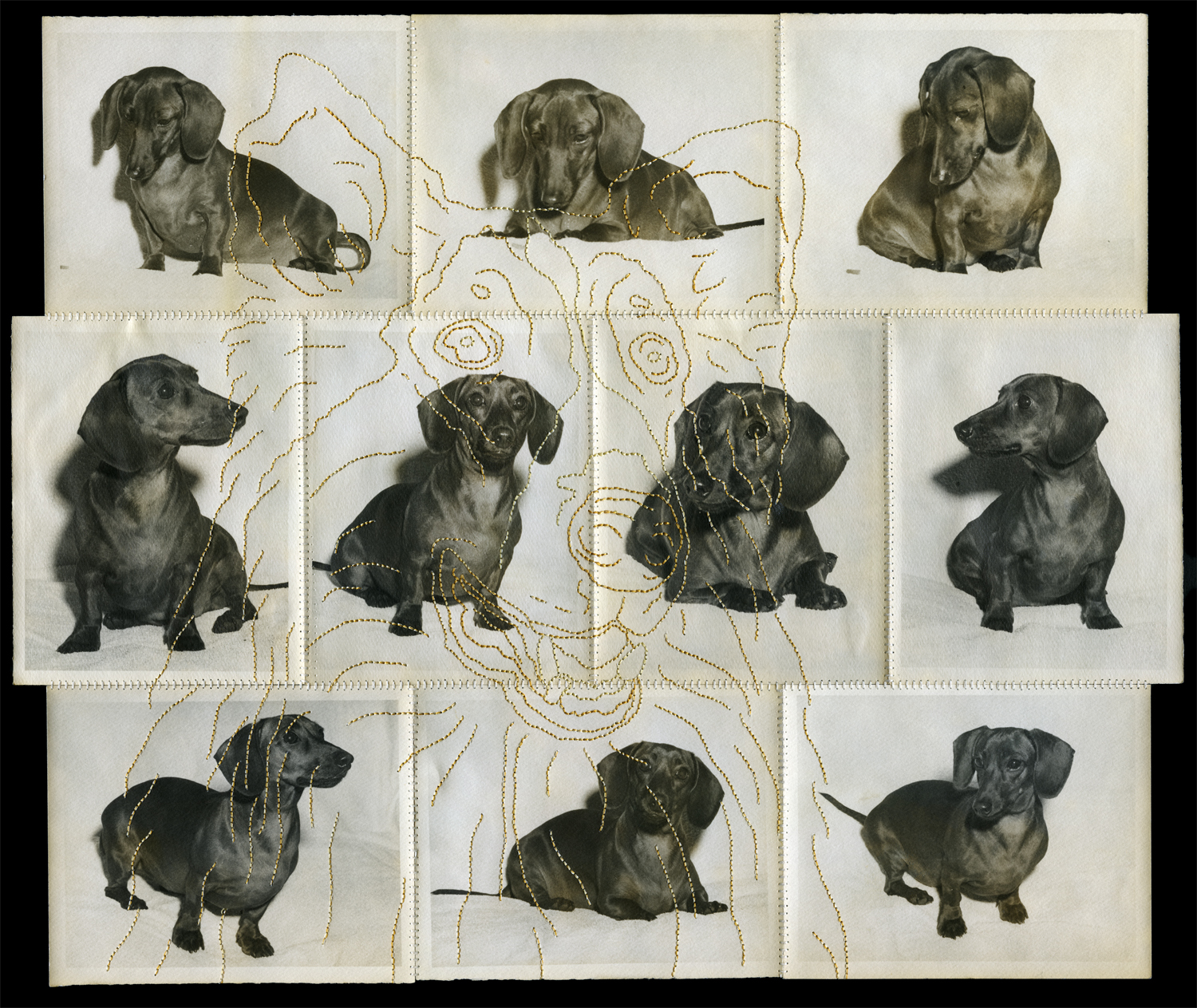 Jane Waggoner Deschner, from the symbol series (Lassie, dachshund), 2015, hand-embroidered found studio proofs, 13"h x 15.875"w
In "Remember me" the photos "read" the texts and vice versa, teasing pretension, tragi-comedy and profound truths about the human condition from sentimental artifacts. In seeking empathetic connections, I create representative keepsakes. The concept is to ultimately, intimately, illustrate our collective narrative. We see our truths, through photos and words, reflected in the lives of others. We are reminded, in this acrimonious age, of our commonalities.
There is a richness in vernacular photos whether or not we know the person, place or time. By asking viewers to look carefully - to react to quotations, decipher symbols and signs, and/or puzzle out juxtapositions - I renew and transform their experience of looking at old photographs. By engaging them with other people's family photos, I alter the way they see their own. They come to realize, as I did, how common this form of expression is - and how precious.
--- Jane Waggoner Deschner
About the Artist
Jane Waggoner Deschner grew up in Lawrence, Kansas, moving to Montana in 1977. She earned degrees in geography at the University of Kansas and, later, in art at Montana State University–Billings (BA) and Vermont College of Fine Arts (MFA). She was invited to create a portrait of a progressive female candidate for the exhibition "In Her Hands," at Robert Mann Gallery in Chelsea, NYC in the summer of 2018. She has been awarded residencies and fellowships across the US and in Canada. In conjunction with being an artist, she works as an exhibition installer, graphic designer, photographer, instructor, curator and picture framer.
Exhibition Events
Jane Waggoner Deschner will speak at 6:00 p.m. Event is free to the public. Complimentary wine and hors d'oeuvres provided.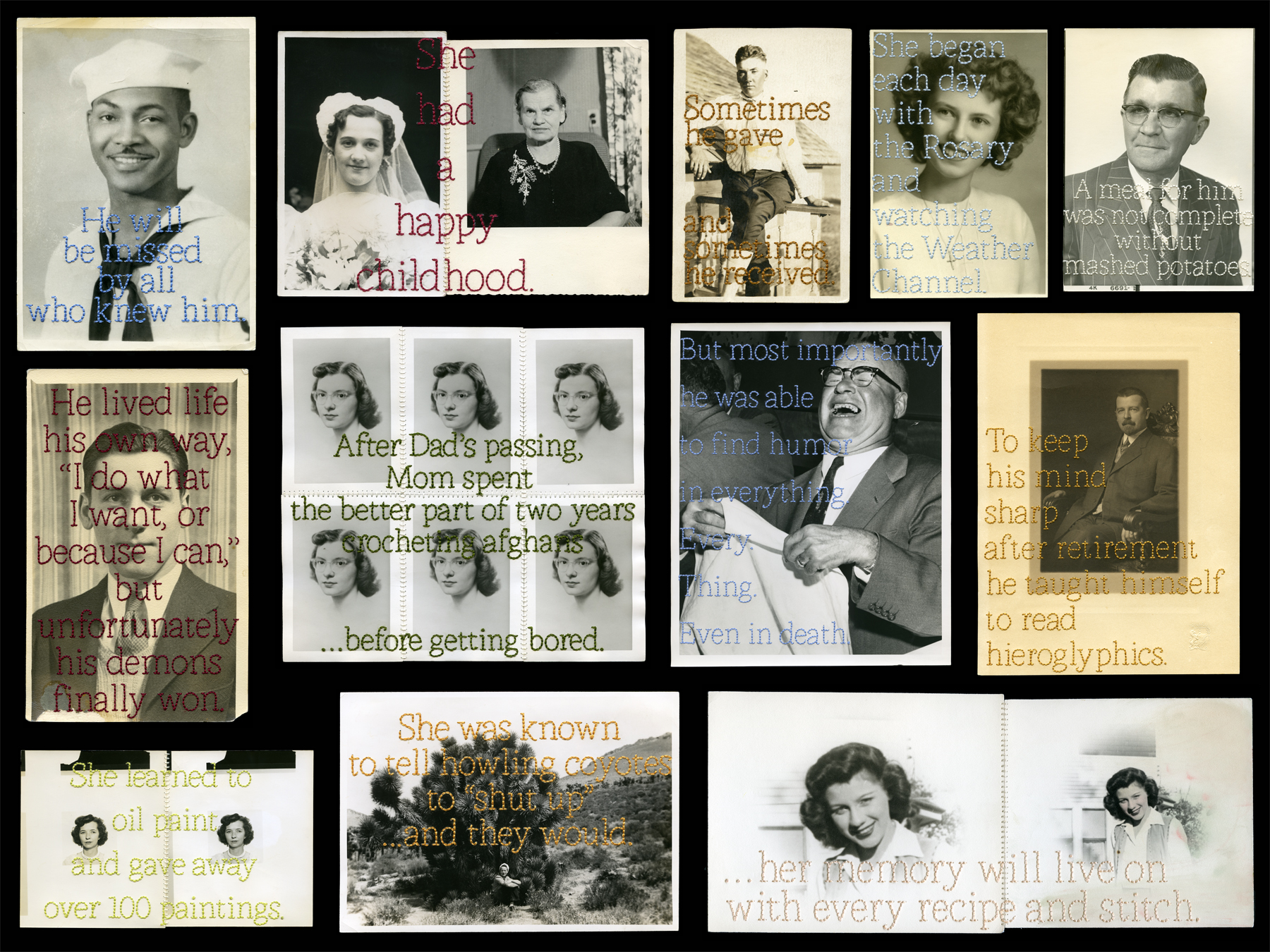 ---
The Alfred Berkowitz Gallery is located on the third floor of the Mardigian Library at the University of Michigan-Dearborn. For further information, see below for contact information. Anyone requiring accommodations under the provisions of the Americans with Disabilities Act should contact (313)-593-5087.